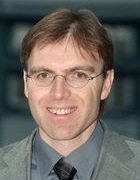 Prof. Dr.-Ing. Georg Carle
Academic Career and Research Areas
Prof. Carle's research field is internet technology, specializing in future internet, network security, sensor networks, real-time communication and autonomous networks.
Prof. Carle (b. 1965) studied electrical engineering at the University of Stuttgart (graduated in 1992). He spent periods abroad at the Ecole Nationale Supérieure des Télécommunications in Paris and Brunel University in London, where he acquired a Master of Science in digital systems. In 1996, he completed his doctorate at the University of Karlsruhe's Institute of Telematics. He was supported by a scholarship from the "Beherrschbarkeit komplexer Systeme" (manageability of complex systems) research training group. In 1997, he received an EU scholarship to study at the Institut Eurécom at Sophia Antipolis in France. At the Fraunhofer Institute for Open Communication Systems (FOKUS) in Berlin, he headed up the "Global Networking" competence center. In December 2002, he was appointed to the University of Tübingen's newly-created Chair of Computer Networks and Internet. In April 2008, he moved to TUM. He has been managing director of the Institute of Computer Science since April 2010.
Awards
Best Paper Award, International Conference on Autonomic and Autonomous Systems (2008)
Gewählt in das Präsidium der Gesellschaft für Informatik (2007)
Gewählt in den Vorstand des Fakultätentags Informatik (2006)
Marie Curie Research Fellow (1997)
Braun L, Münz G, Carle G: "Packet sampling for worm and botnet detection in TCP connections". IEEE/IFIP Network Operations and Management Symposium. 2010; 4.
Abstract
Braun L, Didebulidze A, Kammenhuber N, Carle G: "Comparing and Improving Current Packet Capturing Solutions based on Commodity Hardware". IMC'10. 2010: 206-217.
Abstract
Müller A, Klenk A, Carle G: "Behavior and Classification of NAT Devices and Implications for NAT Traversal". IEEE Network. 2008; 5: 14-19.
Abstract
Nonnenmacher J, Jung M, Lacher M, Biersack EW, Carle G: "How bad is reliable multicast without local recovery". IEEE INFOCOM. 1998; 3.
Abstract
Carle G, Biersack EW: "Survey on error recovery for IP-based audio-visual multicast applications". IEEE Network. 1997; 11.
Abstract