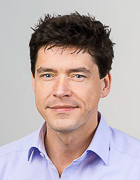 Academic Career and Research Areas
The laboratory of Professor Dietz (b. 1977) develops tools based on DNA nanostructures which make it possible to investigate and manipulate biological macromolecules using new methods and providing a wealth of detail. The objective of this research is to elucidate the microstructure characteristics and to understand the physical properties of, for instance, the adhesive interactions between biomolecules which are essential for many dynamic cellular processes such as gene regulation. In the long term Professor Dietz hopes to make a significant contribution to the creation of a biologically inspired nanotechnology with practical benefits for everyday life. This includes uses in medicine – for diagnosis and therapy – and synthetic enzymes for biologically inspired chemistry.
Professor Dietz studied physics in Paderborn, Zaragoza (Spain) and at LMU Munich. After obtaining his doctorate at TUM in 2007 he worked as a post-doctoral researcher at Harvard Medical School, Boston, USA. Professor Dietz has been a professor of experimental biophysics at TUM since 2009.
Awards
Gottfried Wilhelm Leibniz-Preis der DFG (2015)
Hoechst Dozentenstipendium, Aventis Foundation (2012)
Arnold Sommerfeld Award, Bay. Akademie der Wissenschaften (2010)
European Research Council (ERC) Starting Grant (2010)
Feodor-Lynen Fellow, Alexander von Humboldt Foundation (2007-2008)
Key Publications
Sobczak J, Martin T, Gerling T, Dietz H: "Rapid folding of DNA into nanoscale shapes at constant temperature". Science. 2012; 338(6113):1458-1461.
Abstract
Bai X, Martin T, Scheres S, Dietz H: "The cryo-EM structure of a 3D DNA-origami object". P Natl Acad Sci USA. 2012; 109: 20012.
Abstract
Langecker M, Arnaut V, Martin T, List J, Renner S, Mayer M, Dietz H, Simmel F: "Synthetic lipid membrane channels formed by designed DNA nanostructures". Science. 2012; 338(6109): 932-936.
Abstract
Dietz H, Douglas SM, Shih WM: "Folding DNA into twisted and curved nanoscale shapes". Science. 2009; 325: 725-730.
Abstract
Douglas SM, Dietz H, Liedl T, Hogberg B, Graf F, Shih WM: "Self-assembly of DNA into nanoscale three-dimensional shapes". Nature. 2009; 459: 414-418.
Abstract