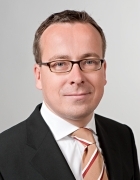 Academic Career and Research Areas
The research work of Professor Friedl (b. 1971) spans the fields of controlling, corporate management and corporate accounting. He is particularly interested in the development of controlling instruments, the analysis and design of incentive and compensation systems, corporate governance and corporate valuation.
After completing first degrees in physics at TUM and business administration at LMU Munich, he received his PhD in 2000 and acquired his postdoctoral teaching qualification (habilitation) in 2004 at the Institute of Production Management and Controlling at LMU. Between 2004 and 2007 Professor Friedl held the Chair of the Department of Controlling at Johannes Gutenberg University in Mainz, Germany. In 2007 he was appointed Chair of Business Administration – Controlling. Research and teaching positions took him to Stanford University (2002/2003) and Warsaw School of Economics (2006).
Awards
Best Teaching Award der Executive MBA Class 2012 in Communication and Leadership, TUM School of Management, TUM (2012)
Best Textbook Award des VHB für das Lehrbuch "Kostenrechnung" (2011)
Best Teaching Award der TUM School of Management, TUM (2010)
Best Teaching Award der TUM School of Management, TUM (2009)
DFG-Förderung für einen Forschungsaufenthalt an der Stanford University (2002-2003)
Friedl G, Wagner S: "Supplier Development Investments in a Triadic Setting". IEEE Transactions on Engineering Management. 2016; PP(99):1-15.
Abstract
Döscher T, Friedl G: "Corporate Governance, Stakeholder Power, and Executive Compensation". OR Spectrum. 2011; 33(2): 309-331.
Friedl G, Hofmann C, Pedell B: Kostenrechnung. Eine entscheidungsorientierte Einführung. München: Verlag Vahlen, 2010.
Abstract
Bergmann R, Friedl G: "Controlling innovative projects with moral hazard and asymmetric information". Research Policy. 2008; 37: 1504-1514.
Wagner S, Friedl G: "Supplier switching decisions". European Journal of Operational Research. 2007; 183: 700-717.