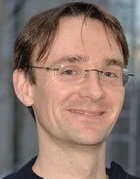 Prof. Dr. Julien Gagneur
Assistant Professor
Computational Biology
Academic Career and Research Areas
Julien Gagneur (b. 1977) conducts research in the field of computational biology. The primary focus of the research group is to advance our understanding of gene regulation through quantitative modeling and develop methods to study the mechanisms by which genetic variants condition phenotypes (systems genetics). The strength of this group lies in the statistical modeling of large-scale genomic datasets and its close working relationships with experimentalists.
Gagneur studied engineering, majoring in applied mathematics, at École Centrale Paris and machine learning at École Normale Supérieure de Cachan. He received a PhD in applied mathematics in 2004 from École Centrale Paris for work performed at Heidelberg-based biotech companies Lion Bioscience and Cellzome AG. Subsequently, Gagneur joined the Genome Biology Unit of EMBL (European Molecular Biology Laboratory). In 2012 he moved to the Gene Center at LMU Munich where he led a junior research group. In 2016 he accepted an appointment as assistant professor for computational biology at TUM.
Bader DM, Wilkening S, Lin G, Tekkedil MM, Dietrich K, Steinmetz LM, Gagneur J: "Negative feedback buffers effects of regulatory variants". Mol Syst Biol. 2015; 11(1): 785.
Abstract
Gagneur J, Stegle O, Zhu C, Jakob P, Tekkedil MM, Aiyar RS, Schuon AK, Pe'er D, Steinmetz LM: "Genotype-environment interactions reveal causal pathways that mediate genetic effects on phenotype". PLoS Genet. 2013; 9(9): e1003803.
Abstract
Bauer S, Gagneur J, Robinson PN: "GOing Bayesian: model-based gene set analysis of genome-scale data". Nucleic Acids Res. 2010; 38(11): 3523-3532.
Abstract
Zinzen RP, Girardot C, Gagneur J, Braun M, Furlong EE: "Combinatorial binding predicts spatio-temporal cis-regulatory activity". Nature. 2009; 462(7269): 65-70.
Abstract
Gagneur J, Sinha H, Perocchi F, Bourgon R, Huber W, Steinmetz LM: "Genome-wide allele- and strand-specific expression profiling". Mol Syst Biol. 2009; 5: 274.
Abstract