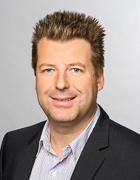 Prof. Dr. Tobias Alexander Marius Gulder
Assistant Professor
Biosystems Chemistry
Academic Career and Research Areas
Professor Tobias Gulder (b. 1978) is interested in the structure, biosynthesis and synthesis of bacterial natural products. This includes the elucidation of new biosynthetic transformations and their application to the biocatalytic synthesis of natural products as well as the manipulation of biosynthetic pathways to generate new molecular structures. This is achieved by combining organic synthesis, chemical analytics, biochemical, and biomolecular methods.
Professor Gulder studied Chemistry in Würzburg (1998-2004). In 2008 he was awarded a doctorate (with distinction) from the same university for his work on marine natural products under the supervision of Professor Bringmann. During a postdoctoral research fellowship working with Professor Moore at the Scripps Institution of Oceanography (La Jolla, USA, 2008-2010) he worked on the biosynthesis of marine natural products. As of 2011 Professor Gulder carried out independent research at the University of Bonn. In February 2014 he accepted a W2 faculty appointment as professor of biosystems chemistry at TUM.
Awards
Arnold Sommerfeld Award of the Bavarian Academy of Sciences and Humanities (2017)
Ernst Otto Fischer Teaching Award (2016)
DECHEMA Natural Product Chemistry Early Career Award (2016)
Thieme Chemistry Journal Award (2013)
Emmy-Noether Fellowship of the DFG (2011)
Key Publications
Sib A, Gulder TAM: "Chemo-Enzymatic Total Synthesis of Oxosorbicillinol, Sorrentanone, Rezishanones B and C, Sorbicatechol A, Bisvertinolone and (+)-Epoxysorbicillinol". Angew. Chem. Int. Ed. 2018.
Abstract
Greunke C, Duell ER, D'Agostino P, Glöckle A, Lamm K, Gulder TAM: "Direct Pathway Cloning (DiPaC) to Unlock Natural Product Biosynthetic Potential". Metab. Eng. 2018; 47: 334-345.
Abstract
Sib A, Gulder TAM: "Stereoselective Total Synthesis of Bisorbicillinoid Natural Products by Enzymatic Oxidative Dearomaization / Dimerization". Angew. Chem. Int. Ed. 2017; 56(42): 12888-12891.
Abstract
Greunke C, Glöckle A, Antosch J, Gulder TAM: "Biocatalytic Total Synthesis of Ikarugamycin". Angew. Chem. Int. Ed. 2017; 56(15), 4351-4355.
Abstract
Antosch J, Schaefers F, Gulder TAM: "Heterologous Reconstitution of Ikarugamycin Biosynthesis in E. coli". Angew. Chem. Int. Ed. 2014; 53(11): 3011-3014.
Abstract