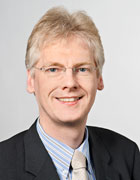 Academic Career and Research Areas
The research focus of Professor Minner (b. 1969) is on the design and optimization of global supply chains. His work involves developing decision support tools for inventory management with particular applications in retail and service parts logistics and investigating and applying strategic logistics network design methods under uncertainty.
After his studies in business administration at the University of Bielefeld he received his doctoral degree from the University of Magdeburg in 1999, was a postdoctoral researcher at the University of Calgary and acquired his postdoctoral teaching qualification (habilitation) in 2003. After professorship positions at the universities of Paderborn (2003), Mannheim (2004-2008) and Vienna (2008-2012) he joined TUM. Professor Minner is the editor-in-chief of OR Spectrum, a member of the advisory board of the German Operations Research Society (GOR), and president-elect of the International Society for Inventory Research (ISIR).
Awards
Service Award, International Society for Inventory Research (2006)
Dissertationspreis der Gesellschaft für Operations Research (1999)
Fakultätspreis der Fakultät für Wirtschaftswissenschaften, Universität Magdeburg (1999)
Kremer M, Minner S, van Wassenhove LN: "Do Random Errors Explain Newsvendor Decisions?". Manufacturing & Service Operations Management. 2010; 12(4): 673-681.
Minner S, Transchel S: "Periodic Review Inventory Control for Perishable Products under Service Level Constraints". OR Spectrum. 2010; 32(4): 979-996.
Abstract
Minner S, Silver EA: "Multi-product Batch Replenishment Strategies Under Stochastic Demand and a Joint Capacity Constraint". IIE Transactions on Scheduling and Logistics. 2005; 37(5): 469-479.
Abstract
Minner S, Diks EB, de Kok AG: "A two-echelon inventory system with supply lead time flexibility". IIE Transactions. 2003; 35(2): 117-129.
Abstract
Inderfurth K, Minner S: "Safety Stocks in Multi-stage Inventory Systems Under Different Service Measures". European Journal of Operational Research. 1998; 106(1): 57-73.