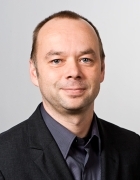 Prof. Dr.-Ing. Frank Petzold
Academic Career and Research Areas
The focus of research and lecturing at the Chair of Prof. Petzold (b. 1968) is on computer-aided architectural design. The work involves analyzing the activities of architects, formulating requirements for digital tools and – based on the latest technologies – creating concepts and developing and evaluating prototype solutions.
After studying applied computer science (specializing in a the Chair of Architectural Informatics at Bauhaus University Weimar. Following his doctorate in 2001, he was junior professor of architectural informatics there until he was appointed full professor at TUM. Prof. Petzold is a member of the Arbeitskreis für Architekturinformatik and Arbeitskreis Bauinformatik study group as well as various international bodies.
Key Publications
Schubert G, Anthes C, Petzold F, Kranzmüller D: "FROM PHYSICAL TO VIRTUAL: REAL-TIME IMMERSIVE VISUALISATIONS FROM AN ARCHITECT'S WORKING MODEL". CONVR, 2012. Taipei, Taiwan.
Abstract
Langenhan C, Weber M, Liwicki F, Petzold F, Dengel A: "Sketch-based Methods for Researching Building Layouts through the Semantic Fingerprint of Architecture". Proceedings of CAAD Future. 2011; 85-102.
Abstract
Langenhan C, Weber M, Liwicki M, Dengel A, Petzold F: "Topological Query on Semantic Building Models Using Ontology and Graph Theory". Computing in Engineering: EG-ICE Conference; 2012, Shaker Verlag.
Abstract
Langenhan C, Seifert A, Teichert A, Petzold F: "ar:searchbox – Knowledge management for architecture students". Proceedings of eCAADe, 2012.
Abstract
Schubert G, Artinger E, Yanev V, Petzold F, Klinker G: (2012): "3D Virtuality Sketching: Interactive 3D-sketching based on real models in a virtual scene". Proceedings of ACADIA, 2011, San Francisco. USA.
Abstract