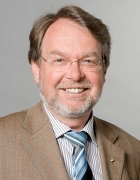 Academic Career and Research Areas
Professor Rank (b. 1954) conducts research on numerical mechanics and building informatics. This research focuses on high-order finite element methods and linking numerical calculation to geometric modeling. The objective of this is to develop effective and intuitively usable simulation methods for the optimization of industrial products and processes.
After studying mathematics and physics at Munich's Ludwig Maximilian University, Professor Rank was awarded a doctorate at TUM in 1985. After that, he worked in the USA with the assistance of a research grant until 1986. Following a period working for Siemens, he assumed a professorship at the University of Dortmund, after which he was appointed to TUM in 1997. He served as First Vice President of TUM from 2002 to 2008. He has been Founding Director of the International Graduate School of Science and Engineering (IGSSE) (since 2006), Chairman of the University Council of TU Dortmund (since 2007), Director of the TUM Graduate School from 2008 to 2013 and since 2015 Director of the Institute for Advanced Study (IAS) of TUM.
Awards
Corresponding member of the North Rhine-Westphalian Academy of Sciences (2014)
Konrad Zuse Medal (2009)
Federal Cross of Merit (2009)
Heinz Maier-Leibnitz Medal of TUM (2006)
Ruess M, Schillinger D, Bazilevs Y, Varduhn V, Rank E: "Weakly enforced essential boundary conditions for NURBS-embedded and trimmed NURBS geometries on the basis of the finite cell method". International Journal for Numerical Methods in Engineering. 2013; 95 (10): 811-846.
Abstract
Rank E, Kollmannsberger S, Sorger Ch, Düster A "Shell Finite Cell Method: A High Order Fictitious Domain Approach for Thin-Walled Structures". Computer Methods in Applied Mechanics and Engineering. 2011; 200(45–46): 3200–3209.
Abstract
Düster A, Parvizian J, Yang Z, Rank E: "The Finite Cell Method for three-dimensional problems of solid mechanics". Computer Methods in Applied Mechanics and Engineering. 2008; 197 (45-48): 3768–3782.
Abstract
Düster A, Bröker H, Rank E: "The p-version of the Finite Element Method for three-dimensional curved thin walled structures". International Journal of Numerical Methods in Engineering. 2001; 52(7): 673-703.
Abstract
Rank E, Schweingruber M, Sommer M: "Adaptive mesh generation and transformation of triangular to quadrilateral meshes". Comm. in Applied Numerical Methods in Engineering 9. 1993; 9(2): 121-129.
Abstract