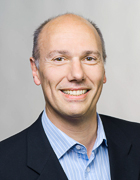 Prof. Dr. Daniel J. Rixen
Academic Career and Research Areas
Professor Rixen has worked for more than twenty years on theoretical, numerical and experimental aspects of the dynamics of structures and systems. His activities encompass simulations and measurements of vibrations as well as domain decomposition for parallel computing, modelling of multiphysical systems and model identification in operation. Developments are pursued in collaboration with academic partners and industry in domains such as aeronautics and aerospace, automotive, mechatronics, wind energy, microsystems or medical instruments.
Professor Rixen, (b. 1967) received his engineering degree (electro-mechanics) from the University of Liège (ULg, Belgium) and an MSc degree in Aerospace Vehicle Design from the College of Aeronautics in Cranfield (UK). He obtained his doctorate degree from ULg in 1997, supervised by Professor Géradin. After a research assistantship at the Center for Aerospace of the University of Colorado, in 2000 he became a full professor at Delft University of Technology (The Netherlands) where he held the Chair of Engineering Dynamics. Since 2012 he has headed the Department of Applied Mechanics at TUM.
Awards
Award for best lecturer, Department 3mE, TU Delft (2009, 2010)
Schuurman T, Rixen DJ, Swenne CA, Hinnen JW: "Feasibility of laser doppler vibrometry as potential diagnostic tool for patients with abdominal aortic aneurysms." Journal of Biomechanics. 2013; 46(6): 1113–1120.
Abstract
Ozbek M, Rixen DJ: "Operational modal analysis of a 2.5 mw wind turbine using optical measurement techniques and strain gauges". Wind Energy. 2012; 16(3): 367-381.
Abstract
Rixen D: "A dual Craig-Bampton method for dynamic substructuring". Journal of Computational and Applied Mathematics. 2004; 168(1-2): 383–391.
Abstract
Rixen D, Farhat C: "A simple and efficient extension of a class of substructure based preconditioners to heterogeneous structural mechanics problems". Internat. J. Num. Meth. Engin. 1999; 44(4): 489–516.
Abstract
Géradin M, Rixen D: Mechanical Vibrations. Theory and Application to Structural Dynamics, 2d edition. Chichester: Wiley & Sons, 1997.