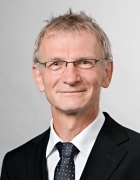 Academic Career and Research Areas
Professor Suda (b. 1957) conducts research in four different areas: traditional forestry policy, environmental communications, natural hazards and environmental governance policy. His teaching and research work focuses primarily on the analysis of political processes in the area of land use. Lying at the nexus between natural and social sciences and backed by an understanding of the language and thought patterns of both, his research explores the interface between societies and their natural environment.
After earning his degree in forestry science, Professor Suda was a scientific staff member in the Department of Forestry Policy and Historical Forestry at LMU Munich, where he earned his PhD on natural hazards with distinction. For his postdoctoral teaching qualification (habilitation) he conducted research into drinking water policy. Prior to his appointment as professor at TUM (1999), Dr. Suda taught at LMU, the University of Freiburg and Fachhochschule Freising. He heads the Association for the Protection of Mountain Areas and advises several institutions on environmental policy.
Awards
Gewinner im Bundeswettbewerb "Die Musik bei Thomas Mann" (1975)
Suda M, Schaffner S: "Wald 2050 - Rückblicke in die Zukunft aus fünf Perspektiven (Essay)". Schweizerische Zeitschrift für Forstwesen. 2008; 8: 237-241.
Krott M, Suda M: "Macht Wissenschaft Politik?" In: Erfahrungen wissenschaftlicher Beratung im Politikfeld Wald und Umwelt. Wiesbaden: VS Verlag für Sozialwissenschaften, 2007; 7-13.
Pretzsch H, Lindner M, Suda M (Eds.): "German forest sector under global change". Forstwissenschaftliches Centralblatt. 2002; 121(1).
Suda M: "Unser Verhältnis zum Wald im beginnenden 21. Jahrhundert". In: Begegnung der Zeiten – Über Zeit, Kultur und Wissenschaft, Band 23. St. Ottilien: EOS Verlag Erzabtei St. Ottilien, 2002; 289-304.
Suda M: "Auswirkungen des Waldsterbens auf Siedlungen, Infrastruktureinrichtungen und den Fremdenverkehr im Bayerischen Alpenraum". In: Forschungsberichte des Deutschen Alpenvereins, Band 4. München,1989.