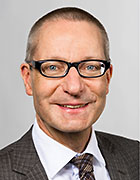 Prof. Dr. Alain Thierstein
Academic Career and Research Areas
Professor Thierstein's work focuses on regional and town planning, with the main emphasis on knowledge-based corporate strategies, spatial development policies and the evaluation of policy measures.
Alain Thierstein studied economic sciences at St. Gallen University from 1978 to 1984. From 1985 to 1987 he was awarded a young academics' grant by the Swiss National Research Fund to carry out research at the Fraunhofer Institute for Systems and Innovation Research ISI in Karlsruhe. After completing his doctorate in 1987, Thierstein worked as a research associate at St. Gallen University. From 1993 onwards he was a permanent lecturer on regional economics and in July 1998 became head of the Regional Economy Centre of Excellence at the Institute for Public Services and Tourism. In 2000, he was appointed assistant professor for regional planning at the Institute for Town, Area and Regional Planning (ORL Institute) at ETH Zurich. Alan Thierstein has been a full professor of spatial development at TUM since the beginning of 2005.He is also a partner of Ernst Basler + Partners in Zurich.
Awards
Honorary Mention Gerd Albers Award for Best Book, ISOCARP (International Society of City and Regional Planners) (2008)
Lüthi S, Thierstein A, Bentlage M: "The Relational Geography of the Knowledge Economy in Germany. On functional urban hierarchies and localised value chain systems". Urban Studies. Juli 2012; Online first.
Hoyler M, Lüthi S, Thierstein A: "German cities in the world city network". Raumforschung und Raumordnung. 2011; 69 (3): 141-146.
Lüthi S, Thierstein A, Goebel V: "Intra-firm and extra-firm linkages in the knowledge economy: the case of the emerging mega-city region of Munich". Global Networks. 2010; 10 (1): 114-137.
Thierstein A, Lüthi S, Kruse C, Gabi S, Glanzmann L: "The changing value chain of the knowledge economy. Spatial impact of intra-firm and inter-firm networks within the emerging Mega-City Region of Northern Switherland". Regional Studies. 2008; 42 (8): 1113-1131.
Thierstein A, Förster A: The Image and The Region - Making Mega-City Regions Visible! Baden: Lars Müller Publishers, 2008.