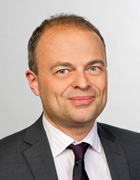 Academic Career and Research Areas
The research of Professor Trüby focuses primarily on the architecture and urban planning of the 20th and 21st centuries, in particular on the economics of architecture and urbanism, the elements and syntheses of the architectural space.
Professor Trüby studied architecture at the Architectural Association School of Architecture (AA) in London. Among his most important academic positions were a visiting professorship position in architecture at Karlsruhe College of Arts and Design, HfG, (2007-2009), heading the postgraduate spatial design program at Zurich University of the Arts, ZHdK, (2009-2014) and being a lecturer at the Graduate School of Design of Harvard University (2012-2014).
He was head of research of the architecture section of the 2014 Venice Biennale and is a regular contributor to the magazines ARCH+ and Archithese.
Awards
Nick Boas Award, British School / Accademia Britannica, Rom (1999)
Key Publications
Trüby S, Buurman GM: Geldkulturen: Ökonomische, philosophische und kulturtheoretische Perspektiven. München: Fink, 2014.
Abstract
Trüby S: "Die Promenadenmischung der Architektur. Ein Theorie- und Methodenentwurf wider den architektonischen Reinheitsgedanken". Archithese. 2012; 4: 76-81.
Abstract
Trüby S: Hertzianismus: Elektromagnetismus in Architektur, Design und Kunst. München: Fink, 2009.
Abstract
Trüby S, Basar S: The World of Madelon Vriesendorp. Paintings / Postcards / Objects / Games. London: AA Publications, 2008.
Abstract
Trüby S: Exit-Architecture. Design between War and Peace. Vienna: Springer, 2008.
Abstract