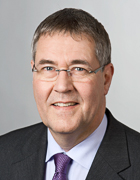 Prof. Dr. Wilhelm Windisch
Academic Career and Research Areas
Prof. Windisch (b. 1958) investigates nutrition in livestock for the production of food of animal origin. He focuses on the effectiveness of functional dietary compounds, the use of biogenic (by-)products from new technologies as animal feed and the physiological principles and tolerances of nutrient transformation in the metabolism of livestock. He also investigates the quality and safety of animal-derived food.
After studying agricultural science at TUM, Prof. Windisch did his doctorate in 1988 and his lecturer qualification in 1995. Prior to his appointment as full professor at TUM, he was professor of animal nutrition at the University of Natural Resources and Life Sciences Vienna (BOKU) (2002-2010). Prof. Windisch is a member of the Society for Nutrition Physiology (GfE) and other scientific societies.
Awards
Henneberg-Lehmann-Förderpreis, Georg-August-Universität Göttingen (1996)
Dr. Heinrich-Baur-Förderpreis, TU München (1994)
H. Wilhelm Schaumann-Preis, Gesellschaft für Ernährungsphysiologie (1991)
Li Q, Mair C, Schedle K, Hellmayr I, Windisch W: "Effects of varying dietary iodine supplementation levels as iodide or iodate on thyroid status as well as mRNA expression and enzyme activity of antioxidative enzymes in tissues of grower/finisher pigs". Eur J Nut. 2012 DOI 10.1007/s00394-011-0298-9
Abstract
Mair C, Plitzner C, Pfaffl MW, Schedle K, Meyer HH, Windisch W: "Inulin and probiotics in newly weaned piglets: effects on intestinal morphology, mRNA expression levels of inflammatory marker genes and haematology". Arch Anim Nutr. 2010; 64: 304-321.
Abstract
Windisch W, Schedle K, Plitzner C, Kroismayr A: "Use of phytogenic products as feed additives for swine and poultry". J Anim Sci. 2008; 86 (E. Suppl.): E140-E148.
Abstract
Schlegel P, Windisch W: "Bioavailability of zinc glycinate in comparison with zinc sulphate in the presence of dietary phytate in an animal model with Zn labelled rats". J Anim Physiol Anim Nutr. 2006; 90: 216-222.
Abstract
Windisch W; "Development of zinc deficiency in 65Zn labeled, fully grown rats as a model for adult individuals". J Trace Elem Med Biol. 2003; 17: 91-96.
Abstract