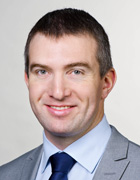 Academic Career and Research Areas
Professor Provost (b. 1984) conducts research in the area of safe embedded systems. His topics of interest include verification and validation of critical systems, human-robot collaboration, and integration and interoperability of distributed control systems. He develops methods and tools in order to increase the modularity and dependability of production systems and embedded systems.
Professor Provost studied at the École Normale Supérieure de Cachan in France (ENS Cachan) where he obtained his MSc degree in industrial automation (2008). He subsequently received his doctorate degree in automation and electrical engineering (2011). He continued his academic career at Chalmers University of Technology in Sweden as a postdoctoral researcher. Since October 2013 he has been an assistant professor at the Institute of Automation and Information Systems.
Provost J, Ebrahimi H, Åkesson K: "Online support for shop-floor operators using body movements tracking". 12th IFAC Symposium on Analysis, Design, and Evaluation of Human-Machine Systems. 2013.
Abstract
Provost J, Fasth Å, Stahre J, Lennartson B, Fabian M: "Planning in assembly systems - a common modeling for products and resources". 17th IEEE Conference on Emerging Technologies & Factory Automation. 2012: 1-8.
Abstract
Provost J, Roussel JM, Faure JM: "Translating Grafcet specifications into Mealy machines for conformance test purposes". Control Engineering Practice. 2011; 19(9): 947-957.
Abstract
Provost J, Roussel JM, Faure JM: "A formal semantics for Grafcet specifications". 7th IEEE International Conference on Automation Science and Engineering. 2011: 488-494.
Abstract
Provost J, Roussel JM, Faure JM: "SIC-testability of sequential logic controllers". 10th International Workshop on Discrete Event Systems. 2010: 193-198.
Abstract