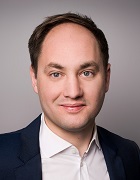 Academic Career and Research Areas
Prof. Putz (*1981) is interested in the processes of observing, recording, and maintaining recent building heritage.
Andreas Putz studied architecture at the TU Dresden, the University of Edinburgh, and ETH Zürich. After graduating, he was employed as an architect first in Basel and later in Dresden. From 2009 onwards he was in charge of the conversion of Erich Mendelsohn's former Schocken department store in Chemnitz. He moved to the Institute of Historic Building Research and Conservation at ETH Zürich to work as a research assistant with Prof. Uta Hassler. Here, he completed his doctoral thesis in 2015. Alongside his freelance work as a registered architect, he has worked as a research associate at IRS, Erkner/Berlin, and as a postdoctoral researcher with Prof. Laurent at the Institute for the History and Theory of Architecture (gta), ETH Zürich. Andreas Putz was appointed Tenure Track Assistant Professor for Recent Building Heritage Conservation at the Technical University of Munich in 2017. He is a member of the German National Commitee of ICOMOS, DOCOMOMO International, the Koldewey-Gesellschaft and the Arbeitskreis Theorie und Lehre der Denkmalpflege.
Key Publications
Putz A: "Wo Paul und Paula lebten. Zur Erhaltung und "Rekonstruktion" des Baubestands in der DDR". In: Rationelle Visionen. Raumproduktion in der DDR (Forschungen zum baukulturellen Erbe der DDR, 8). Editors: Mager T, Trötschel-Daniels B. Weimar: Bauhaus Universitätsverlag, [2018]: 80-99. [in press]
Putz A: "Sheltered. Parked. Respirated. Three underground spaces by Gottfried Schindler". In: Building Knowledge, Constructing Histories (Proceedings of the 6th International Congress on Construction History, July 9–13, 2018, Brussels, Belgium). Editors: Wouters I, van de Voorde S, Bertels I et al.. Leiden: CRC Press/Balkema, 2018: 1067-1074.
Putz A: "'Alte Stadt' und 'Stadt der Techniker' – Der Zürcher Baubestand und seine planerische Erfassung". In: Produkt Altstadt – Historische Stadtzentren in Städtebau und Denkmalpflege. Editor: Enss CM, Vinken G. Bielefeld: transcript, 2016: 165-182.
Abstract
van Aaken W, Putz A: "'Not the fault of the material, but of our attitude' – Insulation materials in Switzerland from 1950-1970". 3rd Proceedings of the 5th International Congress on Construction History. Chicago, IL, USA. 03.-07.06.2015: 509-515.
Abstract
Putz A: "Der Bestand der Stadt. Leitbilder und Praktiken der Erhaltung, Zürich 1930–1970." Dissertation ETH Zürich, 2015.
Abstract