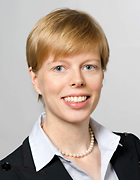 Prof. Dr. Christina Raasch
Academic Career and Research Areas
Professor Raasch (b. 1978) conducts research at the interface of technology and innovation management. Her current research focuses on the interactions between users and producers in the development and diffusion of innovations – from the individual level to the organizational and market levels. For this research she employs qualitative and quantitative empirical methods as well as economic modeling.
Professor Raasch studied economics and management at the Universities of St. Gallen and Oxford (1997 – 2002). She subsequently worked for ZS Associates, a management consultancy, serving large clients in the pharmaceutical industry. After receiving a PhD from the University of Erlangen-Nuremberg (2006) she was appointed head of a research group focusing on open source innovation at Hamburg University of Technology. In 2012 she acquired her postdoctoral teaching qualification (habilitation) in the field of business administration from the same university. Before joining TUM, she accepted the invitation of Professor Eric von Hippel to work as a visiting researcher at the Massachusetts Institute of Technology (2010, 2011 – 2012).
Gambardella A, Raasch C, von Hippel E: "The user innovation paradigm: impacts on markets and welfare". Management Science. 2015; forthcoming.
Abstract
de Jong J, von Hippel E, Gault F, Kuusisto J, Raasch C: "Market failure in the diffusion of consumer-developed innovations: Patterns in Finland". Research Policy. 2015; forthcoming.
Abstract
Schweisfurth T, Raasch C: "Embedded Lead Users - The benefits of employing users for corporate innovation". Research Policy. 2015; 44 (1): 168-180.
Abstract
Raasch C, von Hippel E: "Innovation Process Benefits: The Journey as Reward" Sloan Management Review. 2013; Fall: 33-39.
Abstract
Raasch C, Lee V, Späth S, Herstatt C: "The rise and fall of interdisciplinary research: The case of open source innovation". Research Policy. 2013; 42(5): 1138-1151.
Abstract
print view