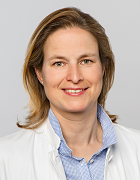 Prof. Dr. Ellen D. Renner
Academic Career and Research Areas
Professor Renner`s research focuses on the interaction of human immunity with the environment. As physician-scientist her overall goal is disease prevention and improving patient care. Professor Renner focuses on rare primary immunodeficiencies as human model diseases of common afflictions such as allergic diseases, including atopic eczema.
She went to the School of Medicine at LMU Munich, specialized in pediatrics at Dr. von Hauner Children`s Hospital, LMU. After research activity at Hôpital Necker, Paris and University of Washington, Seattle she returned to Dr. von Hauner Children`s Hospital, where she directed the diagnostic laboratory of immunology and established an independent and internationally well-connected research group receiving several research grants including DFG funding. In 2016, she joined the faculty of TUM Medical School at UNIKA-T (University Centre for Health Care Sciences at Klinikum Augsburg). In addition, she leads the study center of the Christine Kühne Foundation at Hochgebirgsklinik Davos. Her research group is located at HelmholtzZentrum München and UNIKA-T. At Children`s Hospital Schwabing and Augsburg she takes with her team care of patients with suspect of or known primary immunodeficiencies focused on eczema and elevated IgE.
Awards
Spokesperson, AKPI-Peditaric Immunology, DGfI (since 2013)
International travel award, AAAAI New Orleans (US) (2010)
American Academy of Allergy, Asthma and Immunology's Strategic Training in Allergy Research (ST*AR) Award 2007, San Diego (US) (2007)
CIS Primary Immunodeficiency Summer School, Miami (US) (2006)
Research Award Infectious Diseases, Merck (GER) (2003)
Hagl B, Spielberger BD, Thoene S, Bonnal S, Mertes C, Winter C, Nijman IJ, Verduin S, Eberherr AC, Puel A, Schindler D, Ruland J, Meitinger T, Gagneur J, Orange JS, van Gijn ME, Renner ED: "Somatic alterations compromised molecular diagnosis of DOCK8 hyper-IgE syndrome caused by a novel intronic splice site mutation". Sci Rep. 2018; 8(1):16719.
Abstract
Stentzel S, Hagl B, Abel F, Kahl BC, Rack-Hoch A, Bröker BM, Renner ED: "Reduced Immunoglobulin (Ig) G Response to Staphylococcus aureus in STAT3 Hyper-IgE Syndrome". Clin Infect Dis. 2017; 64(9):1279-1282.
Abstract
Hill DA, Siracusa MC, Abt MC, Kim BS, Kobuley D, Kubo M, Kambayashi T, LaRosa DF, Renner ED, Orange JS, Bushman FD & Artis D: "Commensal bacterial–derived signals regulate basophil hematopoiesis and allergic inflammation". Nature Medicine. 2012; 18(4): 538-46.
Abstract
Renner ED, Rylaarsdam S, Anover-Sombke S, Rack AL, Reichenbach J, Carey JC, Zhu Q, Jansson AF, Barboza J, Schimke LF, Leppert MF, Getz MM, Seger RA, Hill HR, Belohradsky BH, Torgerson TR, Ochs HD: "Novel signal transducer and activator of transcription 3 (STAT3) mutations, reduced T(H)17 cell numbers, and variably defective STAT3 phosphorylation in hyper-IgE syndrome". J Allergy Clin Immunol. 2008; 122(1): 181-187.
Abstract
Renner ED, Torgerson TR, Rylaarsdam S, Anover-Sombke S, Golob K, LaFlam T, Zhu Q, Ochs HD: "STAT3 mutation in the original patient with Job's syndrome". N Engl J Med. 2007; 357(16): 1667-8.
Abstract