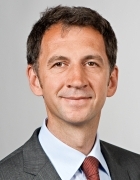 Academic Career and Research Areas
Prof. Ruland (b. 1966) concentrates his research activities on signaling processes in the immune system, both normal and when deregulated due to disease. Along with his research group, he is investigating how normal immune cells recognize pathogens and by what mechanisms this recognition initiates immune defense activation. The group is also examining how pathologically deregulated signals in blood cells lead to malignant transformation and thus to the development of leukemia or lymphomas. The aim is to provide a basis for therapeutic manipulation of the immune system.
Prof. Ruland studied human medicine in Giessen and Pittsburgh and graduated in pharmacology. After medical and research work at TUM, Freiburg University, the Ontario Cancer Institute and the AMGEN Research Institute at the University of Toronto, Canada, he became head of a Max Eder junior research group of German Cancer Aid at TUM in 2003. He completed his postdoctoral studies in medicine in 2005 and was professor of molecular immunology at TUM from 2010 to 2012. Since 2012 he has been professor of clinical chemistry.
Awards
ERC Advanced Grant (2012)
Paul-Martini-Preis (2010)
Wilhelm-Warner-Preis für Krebsforschung (2010)
Wissenschaftspreis der Arbeitsgemeinschaft für Internistische Onkologie (2007)
Artur Pappenheimpreis der Deutschen Gesellschaft für Hämatologie und Onkologie (2006)
Poeck H, Bscheider M, Gross O, Finger K, Hannesschläger K, Schlee M, Rebsamen M, Rothenfusser S, Akira S, Endres S, Peschel C, Hartmann G, Hornung V, Ruland J: "Recognition of RNA virus by RIG-I results in activation of CARD9 and inflammasome signaling for interleukin 1 beta production". Nat Immunol. 2010; 11: 63-69.
Abstract
Gross O, Poeck H, Bscheider M, Dostert C, Hannesschläger N, Endres S, Hartmann G, Tardivel A, Schweighoffer E, Tybulewicz V, Mocsai A, Tschopp J, Ruland J: "Syk kinase signalling couples to the Nlrp3 inflammasome for anti-fungal host defence". Nature. 2009; 459: 433-6.
Abstract
Ferch U, Meyer zum Büschenfelde C, Gewies A, Wegener E, Rauser S, Peschel C, Krappmann D, Ruland J: "MALT1 directs B cell receptor–induced canonical nuclear factor-kappaB signaling selectively to the c-Rel subunit". Nat Immunol. 2008; 8: 984-91.
Abstract
Gross O, Gewies A, Finger K, Schäfer M, Sparwasser T, Peschel C, Förster I, Ruland J: "Card9 controlls a non-TLR signalling pathway for innate anti-fungal immunity". Nature. 2006; 442: 651-6.
Abstract
Ruland J, Duncan GS, Elia A, del Barco Barrantes I, Nguyen L, Plyte S, Millar DG, Bouchard D, Wakeham A, Ohashi PS, Mak TW: "Bcl10 is a positive regulator of antigen receptor-induced activation of NF-kappaB and neural tube closure". Cell. 2001; 104: 33-42.
print view