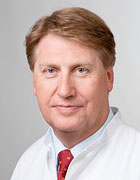 Academic Career and Research Areas
Professor Rummeny (b. 1953) is the director of the Institute for Radiology. His area of expertise is diagnostic radiology and nuclear medicine. The major focus of his research is in the field of oncology imaging, in particular the development of cross-sectional imaging processes such as MRI and CT tomography and linked hybrid systems, such as PET/CT and MR-PET, for the recognition and treatment assessment of malignant and benign disease. Furthermore, he is involved in the optimization of contrast medium.
After studying medicine in Saarbrücken and Mainz, he completed his PhD in 1984 in Mainz and acquired his postdoctoral teaching qualification (habilitation) in 1994 at Münster University (Westfälische Wilhelms-Universität). His clinical and scientific career took him to the Deutsche Klinik für Diagnostik in Wiesbaden, Massachusetts General Hospital/Harvard Medical School and the Massachusetts Institute of Technology, Boston/USA. From 1988/89 until his appointment at TUM in 2000 Professor Rummeny worked at the Institute for Clinical Radiology at Münster University. His research is conducted in close cooperation with leading international institutes, including Harvard University.
Awards
Ehrenurkunde der Bayerischen Röntgengesellschaft (2008)
MR-Tomographie-Preis 1999, für die Entwicklung neuer MRT-Kontrastmittel (1999)
Europäischer Forschungspreis für bildgebende Diagnostik (1992)
Young oncologist essay award, 69th annual meeting of the American Radium Society (1987)
Key Publications
Steingoetter A, Svensson J, Kosanke Y, Botnar RM, Schwaiger M, Rummeny E, Braren R: "Reference region-based pharmacokinetic modeling in quantitative dynamic contract-enhanced MRI allows robust treatment monitoring in a rat liver tumor model despite cardiovascular changes". Magn Reson Med. 2011; 65(1): 229-238.
Abstract
Bruegel M, Gaa J, Waldt S, Woertler K, Holzapfel K, Kiefer B, Rummeny EJ: "Diagnosis of hepatic metastasis: comparison of respiration-triggered diffusion-weighted echo-planar MRI and five t2-weighted turbo spin-echo sequences". Am J Roentgenol. 2008; 191(5): 1421-9.
Abstract
Wieder HA, Rosenberg R, Lordick F, Geintz H, Beer A, Becker K, Woertler K, Dobritz M, Siewert JR, Rummeny EJ, Stollfuss JC. "Rectal cancer: MR imaging before neoadjuvant chemotherapy and radiation therapy for prediction of tumor-free circumferential resection margins and long-term survivial". Radiology. 2007; 243: 744-51.
Abstract
Rummeny E, Weissleder R, Sironi S, Stark DD, Compton CC, Hahn PF, Saini S, Wittenberg J, Ferrucci JT: "Central scars in primary liver tumors: MR features, specificity, and pathologic correlation". Radiology. 1989;171(2):323-6.
Abstract
Okunieff P, McFarland E, Rummeny E, Willett C, Hitzig B, Neuringer L, Suit H: "Effects of oxygen on the metabolism of murine tumors using in vivo phosphorus-31 NMR". Am J Clin Oncol. 1987; 10(6):475-82.
Abstract
print view