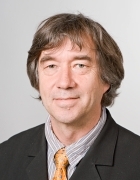 Prof. Dr. Peter Rutschmann
Academic Career and Research Areas
The primary focus of the research group of Professor Rutschmann (b. 1954) and the affiliated Oskar von Miller Research Laboratory, a hydraulic engineering research institute in Obernach in Bavaria, Germany, is on teaching and carrying out research in the field of current and emerging hydraulic engineering technologies and water management. His particular interests lie in water power, flood prevention, flow morphology issues and environmental hydraulics. Research is conducted using hydraulic models as well as complex coupled three-dimensional flow programs. Hybrid modeling which utilizes both approaches simultaneously is also used.
Professor Rutschmann studied and received his doctorate at ETH Zurich (1988) where he subsequently carried out applied research for over twenty years. In 2002 he was appointed professor of hydraulics, hydrology and experimental hydraulic engineering at Innsbruck, where he headed the Institute of Hydraulic Engineering. Professor Rutschmann has been a professor at TUM since 2007. He invented the "shaft power plant I" design which was patented in 2010.
Awards
Beirat DWA Landesverband Bayern (seit 2009)
Vize-Präsident der Österreichischen Gesellschaft für Hydrologie (bis 2008)
Key Publications
Bui M-D, Rutschmann P: "Numerical modelling of non-equilibrium graded sediment transport in a curved open channel". Computers & Geosciences. 2010; 36: 792–800.
Abstract
Kruger S, Rutschmann P: "Modeling 3D Supercritical Flow with an Extended Shallow Water Approach". ASCE Journal of Hydraulic Engineering. 2006; 132(9): 916-926.
Abstract
Naef D, Rickenmann D, Rutschmann P, McArdell B: "Comparison of flow resistance relations for debris flows using a one-dimensional finite element simulation model". Natural Hazards and Earth System Sciences. 2006; 6: 155-165.
Abstract
Volkart PU, Rutschmann P: "Aerators on Spillways. Hydraulic Design Considerations, Air Entrainment in Free Surface Flows". In: IAHR Hydraulic Structures Design Manual. Editor: Wood IR, Balkema AA, Rotterdam. 1991; 85-113.
Rutschmann P, Volkart PU, Vischer D: "Swirling Flow Problems at Intakes. Hydraulic Design Considerations, Intake structures". In: IAHR Hydraulic Structures Design Manual. Editor: Knauss J, Balkema AA, Rotterdam. 1987; 91-100.
print view