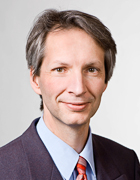 Prof. Dr. Michael Rychlik
Academic Career and Research Areas
Prof. Rychlik (b. 1964) develops new analysis methods for physiologically active foodstuff ingredients such as mycotoxins, vitamins and odorants. In order to assess their biological activity, these substances and their metabolic products are examined in human, animal and plant testing. This provides information on bioavailability (e.g. of vitamins belonging to the folate group), toxicity (e.g. consumer exposure to mycotoxins ochratoxin A and deoxynivalenol) or the positive effects of odorants (e.g. 1,8-cineol).
After studying food chemistry at TU Kaiserslautern, Prof. Rychlik completed his second state examination (Staatsexamen) in 1989. In 1996, he did his doctorate at TUM on the topic of odorants in toasted bread. After that, he worked as an assistant professor at TUM's Chair of Food Chemistry. He completed his lecturer qualification in 2003 on the topic of stable isotope dilution assays. He has declined offers from the Universities of Bonn and Giessen. Prof. Rychlik is Director of the Chair of Analytical Food Chemistry and Head of Scientific Affairs at BIOANALYTIK Weihenstephan at TUM's Nutrition and Food Research Center (ZIEL).
Awards
Kurt Täufel-Preis für Lebensmittelchemiker (2007)
Wiss. Förderpreis der Deutschen Großbäckereien (1997)
Horst K, Rychlik M: "Quantification of 1,8-cineole and of its metabolites in humans using stable isotope dilution assays". Molecular Nutrition and Food Research. 2010; 54: published online.
Abstract
Mönch S, Netzel M, Netzel G, Rychlik M: "Quantitation of folates and their catabolites in blood plasma, erythrocytes and urine by stable isotope dilution assays". Analytical Biochemistry. 2010; 398(2): 150–160.
Abstract
Rychlik M, Asam S: "Stable isotope dilution assays in mycotoxin analysis". Analytical and Bioanalytical Chemistry. 2008; 390(2): 617-628.
Abstract
Asam S, Rychlik M: "Synthesis of four carbon-13 labelled type A-trichothecene mycotoxins and their application as internal standards in stable isotope dilution assays". Journal of Agricultural and Food Chemistry. 2006; 54(18): 6535-6546.
Abstract
Rychlik M: "Rapid degradation of the mycotoxin patulin in man quantified by stable isotope dilution assays". Food Additives and Contaminants. 2003; 20(9): 829-837.
Abstract
print view