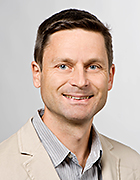 Academic Career and Research Areas
The research group of Professor Schaefer (b. 1975) combines field ecology, biogeography, molecular phylogenetics and systematics to understand the origin and evolution of plant diversity and communities. We try to find answers to fundamental questions about the processes of speciation and community assembly: Is diversity a driver of speciation or an impediment? Does specialization through mutualisms or habitat increase or decrease extinction risk? Is community assembly on oceanic islands random or dependent on the existing species? This information is crucial in finding solutions for the management and conservation of ecosystems in our rapidly changing world.
Professor Schaefer studied biology at the Universities of Wuerzburg and Regensburg (Germany) and did his PhD on the flora of the Azores archipelago with Peter Schoenfelder (2000 – 2003). He then moved on to Susanne Renner's lab at LMU Munich (2004 – 2008). This was followed by a Marie Curie fellowship at Imperial College London, Silwood Park (2008 – 2010) and two years in the lab of Charles C. Davis at Harvard University (2010 – 2012). He was appointed to a post at TUM in 2012.
Awards
Marie-Curie Fellowship (2008)
Doktorandenstipendium der Studienstiftung des Deutschen Volkes (2003)
Erich-Oberdorfer Preis (1996)
Key Publications
Schaefer H, Hardy OJ, Silva LF, Barraclough TG, Savolainen V: "Testing Darwin's naturalization hypothesis in the Azores". Ecology Letters. 2011; 14(4): 389-396.
Abstract
Schaefer H, Moura M, Belo Maciel G, Silva LF, Rumsey F, Carine MA: "Taxonomic checklists and the Linnean shortfall in oceanic island biogeography: a case study in the Azores". Journal of Biogeography. 2011; 38(7): 1345-1355.
Abstract
Schaefer H, Renner SS: "Phylogenetic relationships in the order Cucurbitales and a new classification of the gourd family (Cucurbitaceae)". Taxon. 2011; 60(1): 122-138.
Abstract
Schaefer H, Heibl C, Renner SS: "Gourds afloat: a dated phylogeny reveals an Asian origin of the gourd family (Cucurbitaceae) and numerous oversea dispersal events". Proceedings of the Royal Society B. 2009; 276(1658): 843-851.
Abstract
Schaefer H: Flora of the Azores. A Fieldguide. Second enlarged edition. Weikersheim: Margraf Publishers/Backhuys Publishers, 2005.
Abstract
print view