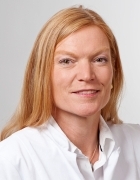 Prof. Dr. Barbara Schmalfeldt
Associate Professor
Gynaecological Clinic and Polyclinic
Academic Career and Research Areas
The main focus of Professor Schmalfeldt's work is the operative therapy of gynecological disease and gynecological oncology. She is involved in numerous interdisciplinary research projects focusing on the role of tumor associated protolysis. She also conducts research into genetic changes in tumors and their impact on progression and metastasis and on possible treatment approaches based on this research. Another emphasis of her work is the optimization and quality assurance of the treatment of gynecological tumors.
After completing her studies in Regensburg and Munich and a PhD in cardiology at TUM (1992), Professor Schmalfeldt acquired her German medical board certification in operative gynecology and obstetrics and perinatal medicine at TUM's Frauenklinik. Since 2001 she has been the senior physician at the Frauenklinik (Director Prof. Dr. M. Kiechle). She has been Professor for Gynaecological Oncology at TUM since 2003. In 2009 she assumed the leadership of the Gynaecological Cancer Centre at Klinikum rechts der Isar.
Awards
Auszeichnung des Tumorzentrums München für Projektgruppenarbeit (2009)
Wissenschaftspreis der Bayerischen Gesellschaft für Geburtshilfe und Frauenheilkunde (1996)
Stipendium der Studienstiftung des Deutschen Volkes (1987 – 1991)
Key Publications
Schmalfeldt B (Ed.): Manual Maligne Ovarialtumoren. Empfehlungen zu Diagnostik, Therapie und Nachsorge. München Wien New York: W. Zuckschwerdt Verlag, 2007 (8. Auflage).
Schmalfeldt B, Pfisterer J (Koordination): Interdisziplinäre S2k-Leitlinie für die Diagnostik und Therapie maligner Ovarialtumoren. Editors: Kommission Ovar der Arbeitsgemeinschaft Gynäkologische Onkologie e.V. in der Deutschen Gesellschaft für Gynäkologie und Geburtshilfe e.V. sowie in der Deutschen Krebsgesellschaft. München Wien New York: W. Zuckschwerdt Verlag, 2007.
Avril N, Sassen S, Schmalfeldt B, Naehrig J, Rutke S, Weber WA, Werner M, Graeff H, Schwaiger M, Kuhn W: "Prediction of response to neoadjuvant chemotherapy by sequential F-18-fluorodeoxyglucose positron emission tomography in patients with advanced-stage ovarian cancer." J Clin Oncol. 2005; Oct 20;23(30):7445-53. Epub 2005 Sep 12. Erratum in: J Clin Oncol. 2005 Dec 20;23(36):9445.
Schmalfeldt B, Prechtel D, Harting K, Spathe K, Rutke S, Konik E, Fridman R, Berger U, Schmitt M, Kuhn W, Lengyel E: "Increased expression of matrix metalloproteinases (MMP)-2, MMP-9, and the urokinase-type plasminogen activator is associated with progression from benign to advanced ovarian cancer". Clin Cancer Res. 2001; 7(8):2396-404.
Schmalfeldt B, Kuhn W, Reuning U, Pache L, Dettmar P, Schmitt M, Janicke F, Hofler H, Graeff H: "Primary tumor and metastasis in ovarian cancer differ in their content of urokinase-type plasminogen activator, its receptor, and inhibitors types 1 and 2". Cancer Res. 1995; Sep 15;55(18):3958-63.
print view