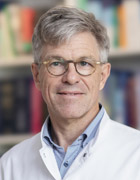 Academic Career and Research Areas
The research work of Professor Schmid (b. 1960) is directed at gaining a better understanding of the molecular basis of pancreatic carcinogenesis and translating this knowledge into diagnostic and therapeutic concepts. The role of tumor relevant gene changes is examined using transgenic and knock-in mouse models. A major focus of this research is the link between oxidative stress, chronic inflammatory processes and tumor development.
Professor Schmid completed his medical degree at the University of Ulm. After his PhD (1987) he carried out research work at the University of Michigan Medical School, Ann Arbor (1989 – 1993). In 1995 he acquired his postdoctoral teaching qualification at the University of Ulm. In 2002 he was appointed to a chair at TUM and became director of the Department of Internal Medicine and Outpatient Care (II. Medizinische Klinik and Poliklinik) at Klinikum rechts der Isar, the university hospital of TUM. As vice dean, Professor Schmid is responsible for mentoring young doctors. He is on the academic advisory committee of the German Cancer Aid and is a member of the editorial board of several prestigious scientific journals.
Awards
Beirat Deutsche Krebshilfe (2010)
Associated Editor of Gastroenterology (2006)
Editorial Board of Digestion (2004)
Editorial Board of Gastroenterology (2002)
Council International Association of Pancreatology (2002)
Key Publications
Mazur PK, Einwächter H, Lee M, Sipos B, Nakhai H, Rad R, Zimber-Strobl U, Strobl LJ, Radtke F, Klöppel G, Schmid RM, Siveke JT: "Notch2 is required for progression of pancreatic intraepithelial neoplasia and development of pancreatic ductal adenocarcinoma." Proc Natl Acad Sci U S A. 2010; 107(30): 13438-13443.
Abstract
Siveke JT, Einwächter H, Sipos B, Lubeseder-Martellato C, Klöppel G, Schmid RM: "Concomitant pancreatic activation of Kras(G12D) and Tgfa results in cystic papillary neoplasms reminiscent of human IPMN." Cancer Cell. 2007; Sep; 12(3): 266-279.
Abstract
Algül H, Treiber M, Lesina M, Nakhai H, Saur D, Geisler F, Pfeifer A, Paxian S, Schmid RM: "Pancreas-specific RelA/p65 truncation increases susceptibility of acini to inflammation-associated cell death following cerulein pancreatitis." J Clin Invest. 2007; 117(6): 1490-1501.
Abstract
Schneider G, Saur D, Siveke JT, Fritsch R, Greten FR, Schmid RM: "IKKalpha controls p52/RelB at the skp2 gene promoter to regulate G1- to S-phase progression." EMBO J. 2006; 25(16): 3801-3812.
Abstract
Wagner M, Greten FR, Weber CK, Koschnick S, Mattfeldt T, Deppert W, Kern H, Adler G, Schmid RM: "A murine tumor progression model for pancreatic cancer recapitulating the genetic alterations of the human disease." Genes Dev. 2001; 15(3): 286-289.
Abstract
print view