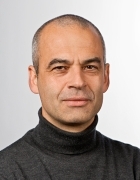 Prof. Dr.-Ing. Sören Schöbel-Rutschmann
Academic Career and Research Areas
Prof. Schöbel-Rutschmann (b. 1967) researches and lectures in the field of conceptual, form-giving design of open space and landscapes as a scientific method ("research by design"). His research is focused on urban open space structures, urban landscapes and new energy landscapes.
After studying landscape planning at TU Berlin, Prof. Schöbel-Rutschmann worked as a freelancer in landscape architecture (building, urban development and regional level). During that time, he also lectured at TU Berlin. He was a research fellow there under Prof. Wenzel between 1998 and 2003 and did his doctorate on qualitative methods in open space planning. Since 2005, he has been an associate professor at TUM. Prof. Schöbel-Rutschmann is a member of the scientific board of the Bayerische Akademie Ländlicher Raum.
Schöbel S: "Die Eleganz des Windrads - der Sinn der Landschaft". der architekt, Zeitschrift des Bund Deutscher Architekten BDA. 2010; 1: 60-65.
Schöbel S: "Landschaftsurbanismus". In: Multiple City. Stadtkonzepte 1908/2008. Editors: Wolfrum S, Nerdinger W, Schaubeck S. Berlin: Jovis, 2008; 14-18.
Schöbel S: "Landschaft als Prinzip. Über das Verstehen, Erklären und Entwerfen". Stadt und Grün. 2007; 12: 53-58.
Schöbel S: "Qualitative research as a perspective for urban open space planning". JOLA Journal of Landscape Architecture. 2006; 1: 38-47.
Schöbel S: "Explicit green systems and implicit green structures". In: Green Structure and Urban Planning. COST C 11 Final Report. Brüssel, 2005; 418-422.
print view