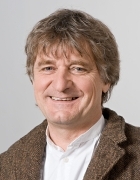 Prof. Dr.-Ing. Manfred Schuller
Academic Career and Research Areas
Prof. Schuller (b. 1953) researches historical architecture from the ancient world to the 20th century. His particular areas of interest are Greek temples, the medieval cathedrals in Bamberg, Regensburg and Saint Mark's in Venice and Renaissance architecture in Venice and Rome. He also studies baroque landscape gardening, historical roofing, Islamic architecture in Bukhara (Uzbekistan) and the iron buildings of the engineer Suchov in Russia.
After studying architecture at TUM (1975-80), Prof. Schuller did his doctorate there in 1984. A German Research Foundation (DFG) grant enabled him to work in Venice. In 1986, he accepted the position of professor of construction research and building history at the University of Bamberg. He has been a full professor at TUM since 2006. Prof. Schuller is a member of the Bavarian State Memorial Committee and the ICOMOS Germany monitoring group. He is a correspondent member of the German Archeological Institute. Prof. Schuller is also on the scientific committee of the German Study Center in Venice.
Awards
Preis der Freunde der TUM (1985)
Schuller M: "Der Artemistempel im Delion auf Paros". Denkmäler antiker Architektur. 1991; 18(1).
Schuller M: Das Fürstenportal des Bamberger Domes. Bamberg, 1993.
Schuller M: "Le facciate dei Palazzi medievali a Venezia"; "Le facciate medievali del Palazzo Ducale a Venezia". L'Architettura Gotica Veneziana. 2000; 281-432.
Schuller M: "Building Archaeology". ICOMOS, International Council on Monuments and Sites VII. München, 2002.
Schuller M, Hubel A (Eds.): Der Dom zu Regensburg . Inventarband des Bayerischen Landesamtes für Denkmalpflege. Regensburg, 2010.
print view