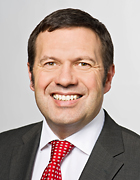 Prof. Dr. Claus Schwechheimer
Academic Career and Research Areas
Prof. Schwechheimer (b. 1967) explores the basic principles of plant growth, primarily using the model plant Arabidopsis thaliana. He focuses in particular on the processes controlled by the small protein ubiquitin. Using genomic and proteomic approaches, he comes up with working hypotheses, which he then investigates using genetic, biochemistry and cell biology methods. His research is focused on gaining an understanding of the gibberellic acid signal path and the deubiquitinating enzymes of the MPN+ protein family.
Prof. Schwechheimer studied biology and biotechnology at the Universities of Heidelberg and Strasbourg. He completed his doctorate at the University of East Anglia's John Innes Centre (Norwich, UK). Thanks to a German Research Foundation (DFG) grant, he spent three years doing postdoctoral research at Yale University. In 2001, he became independent research group leader at the University of Tübingen's Center for Plant Molecular Biology. In 2008, he accepted a professorship at TUM.
Awards
Stipendium der Japanese Society for the Promotion of Science (2007)
Stipendium der Deutschen Forschungsgemeinschaft (1999 - 2001)
Key Publications
Richter R, Behringer C, Müller IK, Schwechheimer C: "The GATA-type transcription factors GNC and GNL/CGA1 repress gibberellin signaling downstream from DELLA proteins and PHYTOCHROME-INTERACTING FACTORS". Genes Dev. 2010; 24: 2093-2104.
Abstract
Isono E, Katsiarimpa A, Müller IK, Anzenberger F, Stierhof YD, Geldner N, Chory J, Schwechheimer C: "The deubiquitinating enzyme AMSH3 is required for intracellular trafficking and vacuole biogenesis in Arabidopsis thaliana". Plant Cell 2010; 22: 1826-1837.
Abstract
Zourelidou M, Müller IK, Willige BC, Nill C, Jikumaru Y, Li H, Schwechheimer C: "The polarly localized D6 PROTEIN KINASE is required for efficient auxin transport in Arabidopsis thaliana". Development 2009; 136: 627-636.
Abstract
Dohmann EMN, Levesque MP, De Veylder L, Reichardt I, Jürgens G, Schmid M, Schwechheimer C: "The Arabidopsis COP9 signalosome is essential for G2 phase progression and genomic stability". Development 2008: 135; 2013-2022.
Abstract
Schwechheimer C, Serino G, Callis J, Crosby WL, Lyapina S, Deshaies RJ, Gray WM, Estelle M & Deng XW: "Interactions of the COP9 signalosome with the E3 ubiquitin ligase SCFTIR1 in mediating auxin-response". Science 2001: 292; 1379-1382.
Abstract
print view