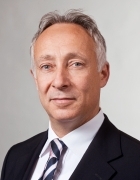 Prof. Dr.-Ing. Veit Senner
Academic Career and Research Areas
The research of Veit Senner (b. 1959) focuses on the interaction between humans, sports equipment and the environment, covering aspects such as biomechanics, user ergonomics, safety and subjective experience.
Senner studied mechanical engineering at TUM and received a doctorate for his work on product development. He completed a second course of study in sports science, majoring in high-performance sports, also at TUM. He then worked in industry for 6 years at TÜV Süddeutschland in the field of medical health sports. Senner is a scientific advisor in court cases involving sports injuries and patent litigation in the field of sports technology. He is chairman of the working group on Snow Sports at Universities and of an ISO standards committee. He is also a staff member of the Department of Sports and Health Sciences at TUM, and was vice dean of this department from 2005 to 2009.
Key Publications
Senner V, Lehner St, Böhm H: "Equipment development and research for more performance and safety". In: Science and Skiing IV. Editors: Müller E, Lindinger St, Stöggl T. 2009: 111-133.
Böhm H, Senner V: "The effect of skiboot settings on tibio-femoral abduction and rotation during standing and simulated skiing". J Biomech. 2008; 41(3): 498-505.
Abstract
Barone M, Senner V, Schaff P: "ACL-injury mechanism in alpine skiing- New aspects based on accidental ACL-rupture under experimental conditions". In: Skiing Trauma and Safety, Twelfth Volume, ASTM STP 1345, American Society for Testing and Materials. Editors: Johnson RJ, Mote CD Jr., Ekeland A. 1999: 63-81.
print view