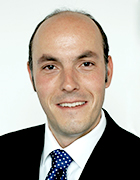 Prof. Dr. Stephan A. Sieber
Academic Career and Research Areas
Prof. Sieber's (b. 1976) research field is bioorganic chemistry. The aim of his work is to develop new drugs for multidrug-resistant bacteria. His research is based on methods which combine synthetic chemistry, functional proteomics, cell biology and mass spectrometry. This approach enables the discovery of new active substances, some of which are currently being optimized for medical application.
Prof. Sieber studied chemistry at the University of Marburg and completed his doctorate at the laboratories of Prof. C. T. Walsh at the Harvard Medical School and Prof. M. Marahiel at the University of Marburg (2004). He did postdoctoral research at the Scripps Institute in La Jolla, California, under Prof. B. F. Cravatt (2006). After that, he undertook independent research at Munich's Ludwig Maximilian University with the assistance of an Emmy Noether scholarship from the German Research Foundation. In 2009, he was appointed to the Chair of Organic Chemistry II at TUM. In 2010, he received an ERC starting grant and EXIST start-up support for the company AVIRU GmbH, which was established based on his research.
Awards
ERC starting grant (2010)
Arnold Sommerfeld Preis (2009)
Innovationspreis der Bioregionen Deutschlands (2008)
Emmy Noether Programm (2006)
Friedrich Weygand Preis (2004)
Key Publications
Böttcher T, Sieber SA: "Showdomycin as a versatile chemical tool for the detection of pathogenesis associated enzymes in bacteria". J. Am. Chem. Soc. 2010; 132 (20): 6964–6972.
Abstract
Staub I, Sieber SA: "beta-Lactam probes as selective chemical-proteomic tools for the identification and functional characterization of resistance associated enzymes in MRSA". 
J. Am. Chem. Soc. 2009; 131: 6271–6276.
Abstract
Böttcher T, Sieber SA: "β-Lactones as specific inhibitors of ClpP attenuate the production of extracellular virulence factors of Staphylococcus aureus". J. Am. Chem. Soc. 2008; 130: 14400–14401.
Abstract
Staub I, Sieber SA: "β-Lactams as Selective Chemical Probes for the in Vivo Labeling of Bacterial Enzymes Involved in Cell Wall Biosynthesis, Antibiotic Resistance, and Virulence". 
J. Am. Chem. Soc. 2008; 130: 13400–13407.
Abstract
Böttcher T, Sieber SA: "beta-Lactones as Privileged Structures for the Active-Site Labeling of Versatile Bacterial Enzyme Classes". Angewandte Chemie. 2008; 47: 4600–4603.
print view