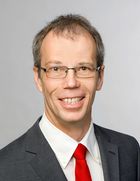 Prof. Dr.-Ing. Georg Sigl
Academic Career and Research Areas
Prof. Sigl's research focuses on the security of embedded systems, attacks on hardware and embedded software, as well as countermeasures.
After obtaining his doctorate on the topic of design automation at TUM in 1992, Prof. Sigl went on to hold several positions at Siemens in its Communication Technology and Semiconductors (later Infineon) divisions. In 2000, he joined the Chip Card division, where he oversaw the development of two new award-winning platforms. Since 2010, Prof. Sigl has held the newly-created Chair of Security in Information Technology at TUM. He is Deputy Director of the Fraunhofer Institute for Secure Information Technology in Munich, with responsibility for hardware security.
Awards
Sesames Award für den Chipkartencontroller SLE78 wegen des innovativen Sicherheitskonzeptes (2008)
Sesames Award für den weltweit ersten 32 Bit Chipkartencontroller SLE88 (2001)
Rhode & Schwarz Preis der Fakultät Elektrotechnik und Informationstechnik für die Dissertation (1993)
Best Paper Award auf der IFIP Konferenz VLSI'89 (1989)
Preis des VDE Südbayern für herausragende Diplomarbeit (1988)
Key Publications
Rüping S, Sigl G: "Error Detection in Smart Cards". In: GMM/GI/ITG Fachtagung Zuverlässigkeit und Entwurf. 26.-28.3. 2007; München: 55-61.
Abstract
Kleinhans JM, Sigl G, Johannes FM, Antreich KJ: "Gordian: VLSI Placement by Quadratic Programming and Slicing Optimization". In: The Best of ICCAD. 20 Years of Excellence in Computer-Aided Design. Editor: Kuehlmann A. 2003; 499-507.
Abstract
Sigl G, Doll, K, Johannes FM: "Analytical Placement: A Linear or a Quadratic Objective Function?". In: IEEE 28th Design Automation Conference. 1991.
Abstract
print view