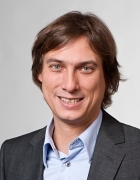 Prof. Dr. Friedrich Simmel
Academic Career and Research Areas
The research conducted by Prof. Simmel (b. 1970) revolves around bionanotechnology and the physics of synthetic biological systems. His particular areas of interest include artificial molecular machines and nanostructures composed of DNA molecules and the design of artificial biochemical circuits.
After studying physics and completing his doctorate (1999) at Munich's Ludwig Maximilian University (LMU), he did research work at Bell Laboratories in Murray Hill, NJ, USA. He returned to LMU in 2002 to work in a junior research group sponsored by the German Research Foundation's Emmy Noether program. In 2005, Prof. Simmel qualified as a lecturer in experimental physics at LMU. He has been Chair of Bioelectronics at TUM since 2007.Since 2013, Prof. Simmel has been a member of acatech - the National Academy of Science and Engineering.
Awards
Human frontier science program (HFSP) young investigator award (2006)
Emmy Noether-Nachwuchsforscher der Deutschen Forschungsgemeinschaft (2002)
Key Publications
Langecker M, Arnaut V, Martin TG, List J, Renner S, Mayer M, Dietz H, Simmel FC: "Synthetic lipid membrane channels formed by designed DNA nanostructures". Science. 2012; 338(6109): 932-936.
Abstract
Kuzyk A, Schreiber R, Fan Z, Pardatscher G, Roller EM, Högele A, Simmel FC, Govorov AO, Liedl T: "DNA-based self-assembly of chiral plasmonic nanostructures with tailored optical response". Nature. 2012; 483(7389): 311-314.
Abstract
Franco E, Friedrichs E, Kim J, Jungmann R, Murray R, Winfree E, Simmel FC: "Timing molecular production and motion with a synthetic transcriptional clock". Proc. Natl. Acad. Sci. U.S.A. 2011; 108(40): E784-E793.
Abstract
Steinhauer C, Jungmann R, Sobey TL, Simmel FC, Tinnefeld P: "DNA origami as a nanoscopic ruler for super-resolution microscopy". Angew. Chem. Int. Ed. 2009; 48(47): 8870-8873.
Abstract
Yurke B, Turberfield AJ, Mills, AP, Jr, Simmel FC, Neumann JL: "A DNA-fuelled molecular machine made of DNA". Nature. 2000; 406(6796): 605-608.
Abstract
print view