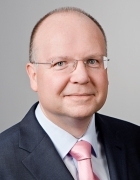 Academic Career and Research Areas
Prof. Skerra (b. 1961) conducts research in the field of protein engineering and design. The focus of this work is on the construction of artificial proteins with new customized functions, such as antibody fragments with biomedically relevant antigen specificity, anticalins as new biotech drugs for human therapy and enzymes for industrial biotechnology. Rational and combinatorial research approaches are pursued in tandem with protein biochemical and spectroscopic methods as well as protein crystallographic analyses.
Following his chemistry studies at TU Darmstadt, Prof. Skerra obtained a doctorate at the Gene Centre of Munich's Ludwig Maximilian University in 1989 and completed his lecturer qualification in biochemistry at the University of Frankfurt am Main in 1995. Before his appointment as full professor at TUM, he was professor of protein chemistry at TU Darmstadt from 1994 to 1998. Prof. Skerra is the founder and member of the supervisory board of Pieris AG, Vice-Coordinator of the Cluster of Excellence at the Munich Center for Integrated Protein Science and a member of the editorial board of the journal Nachrichten aus der Chemie. In 2008, he was elected to Acatech (German Academy of Technical Sciences). He is active in the German National Academic Association, the Society of German Chemists and the Bavarian Elite Academy.
Awards
1. Preis im Science4Life Business-Plan Wettbewerb mit der XL-protein GmbH (2010)
Karl Heinz Beckurts-Preis (2005)
Heinz Maier-Leibnitz-Medaille der TUM (2004)
Nominierung für den Deutschen Zukunftspreis (Preis des Bundespräsidenten für Technik und Innovation, 2004)
Schönfeld D, Matschiner G, Chatwell L, Trentmann S, Gille H, Hülsmeyer M, Brown N, Kaye PM, Schlehuber S, Hohlbaum AM, Skerra A: "An engineered lipocalin specific for CTLA-4 reveals a combining site with structural and conformational features similar to antibodies". Proc. Natl. Acad. Sci. USA. 2009; 106: 8198-8203.
Abstract
Kim HJ, Eichinger A, Skerra A: "High affinity recognition of lanthanide (III) chelate complexes by a reprogrammed human lipocalin 2". J. Am. Chem. Soc. 2009; 131: 3565-3576.
Abstract
Wiedersich J, Köhler S, Skerra A, Friedrich J: "Temperature and pressure dependence of protein stability: the engineered fluorescein-binding lipocalin FluA shows an elliptic phase diagram". Proc. Natl. Acad. Sci. USA. 2008; 105: 5756-5761.
Abstract
Schmidt TGM, Skerra A: "The Strep-tag system for one-step purification and high affinity detection or capturing of proteins". Nat. Protoc. 2007; 2: 1528-1535.
Abstract
Korndörfer IP, Dommel MK, Skerra A: "Structure of the periplasmic chaperone Skp suggests functional similarity with cytosolic chaperones despite differing architecture". Nat. Struct. Mol. Biol. 2004; 11: 1015-1020.
Abstract
print view