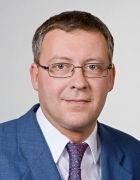 Prof. Dr.-Ing. Hartmut Spliethoff
Academic Career and Research Areas
The research of Professor Spliethoff (b. 1960) focuses on the development and optimization of central and decentralized energy conversion systems and plants. Through a combination of theory and experimentation, he explores ways to improve the efficiency and flexibility of thermal power plants, convert solid fossil fuels and biomass, capture carbon dioxide and improve the efficiency of low temperature heat conversion.
After studying mechanical engineering at the Universities of Kaiserslautern and Stuttgart, Prof. Spliethoff did his doctorate (1992) and lecturer qualification (1999) in Stuttgart. Prior to his appointment as full professor at TUM, he was professor and Chair of Energy Technology at Delft University of Technology, the Netherlands, until 2004. He is Scientific Director of Department 1 of the Bavarian Center for Applied Energy Research (ZAE). Prof. Spliethoff is a member of the advisory council of the Association of Large Power Plant Operators (VGB). Since 2004, he has served as Superintendent of Research at the International Flame Research Foundation.
Key Publications
Spliethoff H: Power Generation from Solid Fuels. Berlin Heidelberg: Springer, 2010.
Spliethoff H: "Investigations on high temperature gasification and gas cleaning". 8th International Symposium on High Temperature Air Combustion and Gasification (HiTACG), July, 5-7 2010, Poznan, Polen.
Heikkinen JM, Hordijk JC, de Jong W, Spliethoff H: "Thermogravimetry as a tool to classify waste components to be used for energy generation". J. Anal. Appl. Pyrolysis. 2004; 71: 883-900.
Abstract
Spliethoff H, Unterberger S, Hein KRG: "Status of co-combustion of coal and biomass in Europe". Clean air. 2004; 5 (4): 1-25.
Spliethoff H, Greul U, Rüdiger H, Hein KRG: "Basic effects on NOx emissions in air staging and reburning at a bench-scale test facility". Fuel. 1996; 75(5), 560–564.
Abstract
print view