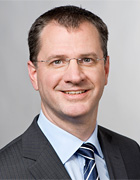 Academic Career and Research Areas
Kasten Stahl (b. 1969) conducts research in the area of mechanical drive systems. His main research interests are drive components, such as gears, synchronization systems, multi-disc clutches and rolling bearings, and electromechanical drive systems. The focus of his investigations is on load capacity, efficiency, dynamic behaviour and EHD tribocontact. The knowledge acquired through this research is transferred to industrial practice by incorporating the results into standardization processes and the development of calculation programs.
Stahl studied mechanical engineering at TUM and performed his doctoral studies from 1994 to 2000 in the Machine Elements Department. In 2001, he joined BMW, first as a gear development engineer, then as the manager of gear development in Dingolfing. In 2006 he transferred to the MINI plant in Oxford where he was initially quality manager for transmissions, then quality manager for powertrains and suspensions. In 2009 he took over responsibility for the initial development and innovation management of powertrain and vehicle dynamics systems at BMW in Munich. Since 2011, Stahl has been a full professor in the Machine Elements Department and scientific director of the Research Institute for Gears and Transmissions.
Awards
VDI Ehrenring (2005)
Auszeichnung der Forschungsvereinigung Antriebstechnik e.V. (1999)
FAG Kugelfischer Preis (1992)
Key Publications
Zimmer M, Otto M, Stahl K: "Calculation and optimization of geometry and meshing behaviour of tooth shapes with arbitrary axis position". Forschung im Ingenieurwesen/Engineering Research. 2016; 80(1): 1-16.
Schultheiss H, Tobie T, Stahl K: "The Effect of Selected Grease Components on the Wear Behavior of Grease-Lubricated Gears". Journal of Tribology. 2016; Article ID 011602.
Reimann T, Stemplinger J-P, Stahl K: "The scuffing test A/44/Cr – A method for testing the cuffing and wear behavior of hypoid oils". Tribologie und Schmierungstechik. 2015; 62: 46-53.
Abstract
Stahl K, Michaelis K, Mayer J, Weigl A, Lohner T, Omasta M, Hartl M, Krupka I: "Theoretical and experimental investigations on EHL point contacts with different entrainment velocity directions". Tribology Transactions. 2013; 56(5): 728-738.
Stahl K, Höhn BR, Michaelis K, Schultheiß H, Stemplinger JP, Gorla C, Concli F: "CFD Simulations of Splash Losses of a Gearbox". Advances in Tribology. 2012; Article ID 616923.
print view