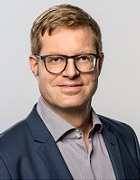 Prof. Dr. sc. tech. (ETH) Daniel Straub
Academic Career and Research Areas
Professor Straub (b. 1975) develops and teaches risk analysis methods for engineering applications. These include complex infrastructure systems, offshore structures and aircraft, and protection against natural hazards. His core research interest is how the influence of information in risk analysis (such as monitoring devices for structures or monitoring of environmental influences) can be modeled quantitatively so that risk management can be optimized using monitoring systems. In his role as a professor he is particularly interested in giving young engineers an understanding of how to deal with uncertainties in a rational manner.
Daniel Straub received his doctorate in 2004 at ETH Zurich where he subsequently worked as a project leader until the end of 2005. From 2005 to 2008 he worked at the University of California, Berkeley, first as a postdoctoral researcher and then as an adjunct professor. He joined TUM in December 2008 as head of the Risk Analysis and Reliability Group. In parallel to his academic work, professor Straub is active in industry. He is a co-founder of Mastrisk GmbH in Zurich and works as a visiting researcher with companies in France and Mexico where he is involved in the safety of offshore structures.
Awards
Early Achievement Research Award, International Association for Structural Safety and Reliability IASSAR (2013)
SNF Fellowship für fortgeschrittene Forscher (2006-2008)
Silbermedaille der ETH Zürich (2005)
Rene Hornung-Medaille der SGZfP (2005)
Key Publications
Straub D: "Value of information analysis with structural reliability methods". Structural Safety. 2014; 49:75-86.
Abstract
Straub D: "Reliability updating with equality information". Probabilistic Engineering Mechanics. 2011; 26(2):254–258.
Abstract
Straub D, Der Kiureghian A: "Bayesian Network Enhanced with Structural Reliability Methods. Part A: Theory & Part B: Applications. Journal of Engineering Mechanics. Trans. ASCE. 2010; 136(10): 1248-1270.
Abstract
Straub D: "Stochastic modeling of deterioration processes through dynamic Bayesian networks". Journal of Engineering Mechanics, Trans. ASCE. 2009; 135(10): 1089-1099.
Abstract
Straub D, Faber MH: "Risk Based Inspection Planning for Structural Systems". Structural Safety. 2005; 27(4): 335-355.
Abstract
print view