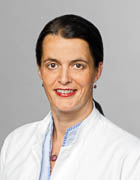 Prof. Dr. Claudia Traidl-Hoffmann
Chair
Environmental Medicine
Academic Career and Research Areas
Professor Traidl-Hoffmann (b. 1970) investigates human-environment interactions focussing on allergic diseases. Her research contributes to our understanding how environmental factors act on the body's epithelial and immunological interface. The first step in this research involves the definition and detailed characterization of the environment (exposome) and the effect on the human body (human biomonitoring and reactome analysis). Identified environmental factors are then further characterised with respect to function and signalling in complex human in vitro and in vivo systems. A detailed understanding of the molecular mechanisms underlying human-environment interactions makes it possible to identify risk factors, develop prevention strategies and identify target structures for therapies. 

Professor Traidl-Hoffmann studied medicine at RWTH Aachen. Subsequently, supported by a grant from DFG, the German Research Foundation, she performed a research fellowship at IDI in Rome for two years. As of 2001 she worked as a physician scientist, conducting clinical work in TUM's Department of Dermatology and scientific research at the Center for Allergy and Environment (ZAUM). At the beginning of 2013 she was appointed to the board of directors of CK CARE – Christine Kühne – Center for Allergy Research and Education. Since November 2013 she head the newly established Institute for Environmental Medicine at the University Center for Health Sciences at Augsburg hospital (UNIKA-T).
Awards
Egon Macher Prize awarded by ADF (2010)
Allergopharma Award (2006)
Recipient of the award of the ALUMNI-Club of TUM's School of Medicine for outstanding research conducted during the course of a postdoctoral teaching qualification (habilitation) (2005)
Fujisawa Award: immunotherapy in eczema reactions (2005)
Recipient of the research prize of the Bavarian state government for research conducted during the course of a postdoctoral teaching qualification (habilitation) (2002)
Key Publications
Beck I, Jochner S, Gilles S, McIntyre M, Buters JT, Schmidt-Weber C, Behrendt H, Ring J, Menzel A, Traidl-Hoffmann C: "High environmental ozone levels lead to enhanced allergenicity of birch pollen". PLoS One. 2013; 8: e80147.
Ring J, Akdis C, Behrendt H, Lauener RP, Schäppi G, Akdis M, Ammann W, de Beaumont O, Bieber T, Bienenstock J, Blaser K, Bochner B, Bousquet J, Crameri R, Custovic A, Czerkinsky C, Darsow U, Denburg J, Drazen J, de Villiers EM, Fire A, Galli S, Haahtela T, zur Hausen H, Hildemann S, Holgate S, Holt P, Jakob T, Jung A, Kemeny M, Koren H, Leung D, Lockey R, Marone G, Mempel M, Menné B, Menz G, Mueller U, von Mutius E, Ollert M, O'Mahony L, Pawankar R, Renz H, Platts-Mills T, Roduit C, Schmidt-Weber C, Traidl-Hoffmann C, Wahn U, Rietschel E. "Davos declaration: allergy as a global problem". Allergy. 2012; 67(5): 141-143.
Gilles S, Fekete A, Zhang X, Beck I, Blume C, Ring J, Schmidt-Weber C, Behrendt H, Schmitt-Kopplin P, Traidl-Hoffmann C. "Pollen metabolome analysis reveals adenosine as a major regulator of dendritic cell-primed T(H) cell responses". J Allergy Clin Immunol. 2011; 127(2): 454-461.e9.
Traidl-Hoffmann C, Jakob T, Behrendt H. "Determinants of allergenicity". J Allergy Clin Immunol. 2009; 123(3): 558-566.
Traidl-Hoffmann C, Jakob T, Mariani V, Hochrein H, Karg K, Müller MJ, Wagner H, Ring J and Heidrun Behrendt. "Pollen associated phytoprostanes inhibit dendritic cell IL-12 production and augment Th2 Polarization" J. Exp Med. 2005; 201(8): 627-636.
print view