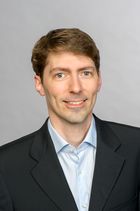 Academic Career and Research Areas
Michael Dorr (b. 1977) studied Computer Science at the University of Edinburgh and at the University of Lübeck, where he received his Diplom in 2004 and his Dr.-Ing. degree in 2010. Michael completed post-doctoral training at The Schepens Eye Research Institute, Harvard Medical School, before joining TUM as an International Junior Research Group leader in November 2014.
Michael Dorr conducts research at the intersection of human and machine vision, with a focus on models of eye movements and selective attention in complex dynamic environments. Beyond addressing fundamental questions on how the visual system works, this research has applications in human-machine communication and in the clinical domain.
Awards
Professor-Otto-Roth Prize awarded by the University of Lübeck (2012)
NVIDIA Academic Partnership (2011)
2nd Prize for Best Exhibit at the Science Beyond Fiction Conference organized by the European Commission (2009)
Wallis TSA*, Dorr M*, Bex PJ (* contributed equally): "Sensitivity to gaze-contingent contrast increments in naturalistic movies: An exploratory report and model comparison". Journal of Vision, In Press.
Abstract
Kalia A, Lesmes LA, Dorr M, Gandhi T, Chatterjee G, Ganesh S, Bex PJ, Sinha P: "Development of Pattern Vision Following Early and Extended Blindness". Proceedings of the National Academy of Sciences. 2014; 111 (5): 2035-2039.
Abstract
Dorr M, Bex PJ: "Peri-saccadic natural vision". Journal of Neuroscience. 2013; 33 (3): 1211-1217.
Abstract
Dorr M, Lesmes LA, Lu Z, Bex PJ: "Rapid and reliable assessment of the contrast sensitivity function on an iPad". Investigative Ophthalmology & Visual Science. 2013; 54 (12): 7266-7273.
Abstract
Dorr M, Martinetz T, Gegenfurtner K, Barth E: "Variability of eye movements when viewing dynamic natural scenes". Journal of Vision. 2010; 10 (10): 1-17.
Abstract
print view