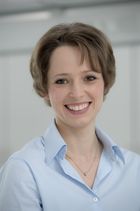 Academic Career and Research Areas
Dr. Eyerich conducts research in the field of allergic disease with a focus on the contribution of T cells to the pathology of allergic disorders of the skin. T cells constantly screen peripheral tissues for external, but also internal harm and react with secretion of cytokines that regulate the reaction pattern of epithelial cells. Therefore, T cells represent important mediators between the epithelial barrier and the immune system. Aim of Dr. Eyerich's research is to deeply understand this crosstalk and to identify factors that might be interesting for therapeutic targeting.
Dr. Eyerich studied biology in Regensburg and at the LMU Munich. She finished her studies with a diploma thesis at the Institute of Medical Microbiology, Immunology and Hygiene at TUM. During her PhD thesis at the Center of Allergy and Environment (ZAUM, TUM) she stepped into the field of inflammatory skin diseases investigating the crosstalk of epithelial cells and T cells. After her PostDoc time at the Imperial College London, she returned to the ZAUM with an independent Helmholtz Young Investigator group.
Awards
Robert-Koch PostDoc Award (Robert-Koch Stiftung) (2013)
ACTERIA-EFIS Early Career Research Award in Allergology (Acteria, Switzerland, and European Federation of Immunological Societies (EFIS) (2013)
Dr. Ernst Wiethoff Award 2012 (Abbvie) (2012)
Egon-Macher Prize of the ADF (Arbeitsgemeinschaft Dermatologische Forschung) (2011)
Quaranta M, Knapp B, Pullabhatla V, Garzorz N, Mattii M, Pennino P, Andres C, Traidl-Hoffmann C, Cavani A, Theis FB, Ring J, Schmidt-Weber CB, Eyerich S, Eyerich K "Intra-individual genome expression analysis reveals a specific molecular signature of psoriasis and eczema". Sci Transl Med. 2014 Jul 9;6(244):244ra90
Abstract
Eyerich S, Zielinski C "Defining Th-cell subsets in a classical and tissue-specific manner: Examples from the skin". Eur J Immunol 2014, Dec;44(12):3475-83
Abstract
Pennino D, Bhavsar PK, Effner R, Avitabile S, Venn P, Quaranta M, Marzaioli V, Cifuentes L, Durham SR, Cavani A, Eyerich K, Chung FK, Schmidt-Weber CB, Eyerich S "IL-22 suppresses IFN- mediated lung inflammation in Asthma". J Allergy Clin Immunol. 2013 Feb;131(2):562-70.
Abstract
Eyerich S, Onken AT, Weidinger S, Franke A, Nasorri F, Pennino D, Grosber M, Pfab F, Schmidt-Weber CB, Mempel M, Hein R, Ring J, Cavani A, Eyerich K "Mutual Antagonism of the T cell Subsets Causing Psoriasis and Atopic Eczema". N Engl J Med. 2011 Jul 21;365(3):231-8
Abstract
Eyerich S, Eyerich K, Pennino D, Carbone T, Nasorri F, Pallotta S, Cianferani F, Odorisio T, Traidl-Hoffmann C, Behrendt H, Durham SR, Schmidt-Weber CB, Cavani A. "Th22 cells represent a distinct human T lymphocyte subset involved in epidermal immunity and remodeling". J Clin Invest. 2009 Dec;119(12):3573-85.
Abstract
print view