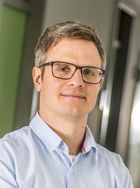 Academic Career and Research Areas
Jan Krumsiek studied from 2004-2009 Bioinformatics at the two universities of Munich, TUM and LMU. During his PhD from 2009-2012 his focus lay on analysing large metabolic records, particularly with system-biological methods. In his postdoctoral period (2012-2016), he deepened his expertise in data analysis of metabolic data at Helmholtz Zentrum München and as a visiting researcher at Weill Cornell Medical College, New York. Since February 2016 he is head of Helmholtz Young Investigator Group "Systems Medicine of Diabetes".
Jan Krumsiek is doing research in the area of innovative methods for the analysis of ,omics' datasets in the field of diabetes. Diabetes is a multifactorial disease, whose causes and mechanisms are explored insufficiently in some cases. An early stage diagnosis of a future diabetes or corresponding disease complications is of particular interest here. Contemporary records include measurements from the genome, epigenome, transcriptome, proteome, metabolome, and other measuring technologies for thousands of probands. The goal of his working group is the development of statistical tools for evaluating such highly complex data sets.
Awards
• MTZ Award for Medical Systems Biology, 2014
• TUM Promotionspreis 2013, Fakultät Wissenschaftszentrum Weihenstephan für Landnutzung, Ernährung und Umwelt
• Helmholtz Doktorandenpreis 2013, Forschungsbereich Gesundheit
• Helmholtz Zentrum München Doktorandenpreis 2012
Krumsiek J, Bartel J, Theis FJ. Computational approaches for systems metabolomics. Current Opinion in Biotechnology, 2016.
Abstract
Bartel J*, Krumsiek J*, Schramm K, Adamski J, Gieger C, Herder C, Carstensen M, Peters A, Rathmann W, Roden M, Strauch K, Suhre K, Kastenmüller G, Prokisch H, Theis FJ. The Human Blood Metabolome-Transcriptome Interface. PLoS Genetics, 2015.
Abstract
Do KT, Kastenmüller G, Mook-Kanamori DO, Yousri NA, Theis FJ, Suhre K, Krumsiek J. Network-Based Approach for Analyzing Intra- and Interfluid Metabolite Associations in Human Blood, Urine, and Saliva. Journal of Proteome Research, 2014.
Abstract
Shin S-Y*, Fauman EB*, Petersen A-K*, Krumsiek J*, et al. An atlas of genetic influences on human blood metabolites. Nature Genetics, 2014.
Abstract
Krumsiek J, Suhre K, Evans AM, Mitchell MW, Mohney RP, Milburn MV, Wägele B, Römisch-Margl W, Illig T, Adamski J, Gieger C, Theis FJ, Kastenmüller G. 'Mining the unknown: a systems approach to metabolite identification combining genetic and metabolic information'. PLoS Genetics, 2012.
Abstract
print view