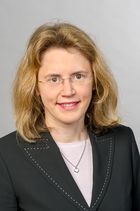 Dr. Jutta Stumpf-Wollersheim
Academic Career and Research Areas
The main research fields of Dr. Jutta Wollersheim (*1979) are organization, organizational learning and change, and performance management (in particular, in public organizations / research organizations). Subsequent to an apprenticeship at a bank, Dr. Jutta Wollersheim studied at the Frankfurt School of Finance & Management (Bachelor of Business Administration degree in 2005; Master of Science degree in 2006). She used to work for an investment bank in parallel to her academic studies. Before she joined the Chair for Strategy and Organization of TUM School of Management in 2010, she completed her doctoral studies at the Frankfurt School of Finance & Management. Since March 2014, she has been leading the independent junior research group FAceS. Additionally, since March 2015, together with Prof. Dr. Isabell M. Welpe, she has been leading the coordination center for higher education and science studies granted to the TUM School of Management by the Federal Ministry of Education and Research.
Awards
Appointment to the Young Scholars Program of the Bavarian Academy of Humanities and Sciences (2014)
Outstanding Reviewer Award, Organizational Behavior Division, Annual Meeting of the Academy of Management, Orlando, USA (2013)
Graduation Award (Förderpreis der Interessengemeinschaft Frankfurter Kreditinstitute), Master of Science (2006)
Welpe IM, Wollersheim J, Ringelhan S, and Osterloh M (Eds.): Incentives and performance: Governance of research organizations. Cham et al.: Springer International Publishing, 2015.
Glauber J*, Wollersheim J*, Sandner P, and Welpe IM: "The patenting activity of German universities". Journal of Business Economics. Forthcoming. [*equal contribution]
Wollersheim J, Lenz A, Welpe IM, and Spörrle, M: "Me, myself, and my university: A multilevel analysis of individual and institutional determinants of academic performance". Journal of Business Economics. 2015; 85 (3): 263-291.
Ringelhan S, Wollersheim J, Welpe IM, Fiedler M, and Spörrle M: "Work motivation and job satisfaction as antecedents of research performance: Investigation of different mediation models". Journal of Business Economics. 2013; Special Issues Volume 3/2013: 7-38.
Leyer M*, and Wollersheim J*: "How to learn process-oriented thinking: An experimental investigation of different learning modes". Schmalenbach Business Review. 2013; 65 (4): 454-473. [*equal contribution]
print view