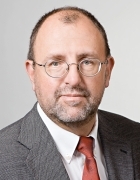 Prof. Dr. Georg Wachtmeister
Academic Career and Research Areas
Professor Wachtmeister's research work focuses on reducing emissions and boosting the efficiency of internal combustion engines. This involves conducting research on new combustion processes with operating parameters that are far beyond the current state of the art. The department has extensive experience in CFD and FEM analysis. In addition to gasoline and diesel engines, natural gas engines are an important focus of his research. Using a test bed engine developed in his department, the frictional forces acting between the piston and piston rings and the cylinder liner can be determined experimentally in a running engine, at high precision and resolution across the crank angle range.
After completing undergraduate studies in general mechanical engineering (1984) and a doctorate (1988) at TUM, Professor Wachtmeister began his career at MAN B&W Diesel AG, starting out as technical manager for thermodynamics. He then became team leader for material strength (4-cycle engines) and manager of the Turbocharger Engineering Department. He was ultimately named senior vice president for 4-cycle engine technology. Professor Wachtmeister has been a full professor at TUM since 2004.
Key Publications
Wloka JA, Hubert A, Wachtmeister G: "Injection spray comparision of diesel fuel and cold pressed rapeseed oil fuel". ILASS-Europe 23rd (Institute for Liquid Atomisation and Spray Systems), Brno, Czech Republic, 2010.
Birner M, Wachtmeister G: "Gas Mixtures in Internal Combustion Engines – Usage, Problems and Solutions". HiTACG Symposium, Poznan, 2010.
Bauer M, Wachtmeister G: "Formation of formaldehyde in lean burn gas engines". CIMAC Paper No. 168, CIMAC Congress, Bergen, 2010.
print view