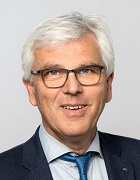 Prof. Dr.-Ing. Ulrich Wagner
Academic Career and Research Areas
Professor Wagner (b. 1955) conducts research in the areas of improved energy efficiency in plants and buildings, electromobility, the integration of renewable energy sources, energetic life cycle analyses, and regional and national energy scenarios.
After studying electrical engineering in Bogotá, Columbia, and at TUM, Professor Wagner received a doctorate for his work on the "Energy Yield from Traction Batteries" in electric cars. Since 1995 he has been scientific director of the Research Center for Energy Economics (FfE). In the same year he was appointed to the Chair of Energy Economics and Application Technology at TUM. Between 2010 and 2015 Professor Wagner was a director of the German Aerospace Center (DLR) in Cologne, responsible for Energy and Transport. He is a member and serves on the executive board of GET, the Society for Energy Technologies of the Association of German Engineers (VDI), the Bavarian Academy of Sciences, the board of the Forum for Future Energies in Berlin and acatech/Leopoldina project ENSYS.
Awards
Ring of Honor for outstanding work (VDI, 1995)
Pro meritis scientiae et litterarum (Bavarian Ministry of Education and Cultural Affairs, 2012)
Key Publications
Energy Storage: Techniques and Perspectives, 8th International Renewable Energy Storage Conference (IRES), Berlin 2013.
von Roon S, Wagner U: "The Interaction of Conventional Power Production and Renewable Power under the Aspect of Balancing Forecast Errors". In: Proceedings of the 10th IAEEE European Conference on Energy, Policies and Technologies for Sustainable Economies, Wien, 08.09.-10.09.2009.
Abstract
Rudolph M, Wagner U: Energieanwendungstechnik. Wege und Techniken zur effizientieren Energienutzung. Berlin: Springer-Verlag, 2008.
Abstract
Wagner U, Eckl R, Tzscheutschler P: "Energetic life cycle assessment of fuel cell powertrain systems and alternative fuels in Germany". ENERGY. 2006; 31: 2726-2739.
Abstract
print view