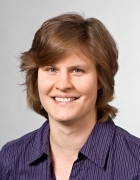 Academic Career and Research Areas
Professor Warzel's research area is mathematical physics.
Professor Warzel (b. 1973) studied physics and mathematics at the University of Erlangen-Nürnberg (Germany) and Cambridge University (UK). After receiving her doctorate from Erlangen University, she went to Princeton (USA), first as a postdoctoral researcher and then as an assistant professor. She has held a faculty appointment in the Mathematics Center of TUM since 2008.
Awards
Young Scientist Award by IUPAP (2009)
Alfred P. Sloan Fellowship (2007)
Key Publications
Aizenman M, Warzel S: "Extended states in a Lifshits tail regime for random Schrödinger operators on trees", Preprint 2011.
Abstract
Aizenman M, Warzel S: "Localization bounds for multiparticle systems": Commun. Math. Phys. 2009; 290: 903-934.
Abstract
Frank R, Siedentop H, Warzel S: "The ground state energy of heavy atoms: relativistic lowering of the leading energy correction". Commun. Math. Phys. 2008; 278 : 549-566.
Abstract
Aizenman M, Sims B, Warzel S: "Absolutely continuous spectra of quantum tree graphs with weak disorder". Commun. Math. Phys. 2006; 264: 371-389.
Abstract
Raikov G, Warzel S: "Spectral asymptotics for magnetic Schrödinger operators with rapidly decreasing electric potentials". C. R. Acad. Sci. Paris. 2002; I(335): 683-688.
print view