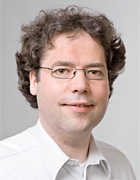 Academic Career and Research Areas
Professor Wilkens (b. 1974) conducts research in the field of medical physics focusing primarily on the radiation therapy of cancer patients. A major focus is the potential use of laser-accelerated protons and ion radiation. Other research interests include physical and radiobiological models to describe the effect of radiation in the patient and mathematical optimization methods for modern, image-based techniques in tumor therapy.
Professor Wilkens studied physics at LMU Munich and in Nottingham (UK) and completed his PhD in 2004 in Heidelberg. Subsequently, he worked as a member of the research staff at the German Cancer Research Centre in Heidelberg and for a period of time held a postdoctoral research position at Washington University School of Medicine in St. Louis, USA. In 2008 he was appointed to a position at TUM's Klinikum rechts der Isar with research interests in the field of "Advanced Technologies in Radiation Therapy". Since 2012 he has headed the Medical Physics Unit within the Department of Radiotherapy.
Schell S, Wilkens JJ: "Advanced treatment planning methods for efficient radiation therapy with laser accelerated proton and ion beams" Medical Physics. 2010; 37: 330-5340.
Abstract
Wilkens JJ, Oelfke U: "Direct comparison of biologically optimized spread-out Bragg peaks for protons and carbon ions" International Journal of Radiation Oncology, Biology, Physics. 2008; 70: 262-266.
Abstract
Wilkens JJ, Alaly JR, Zakarian K, Thorstad WL, Deasy JO: "IMRT treatment planning based on prioritizing prescription goals" Physics in Medicine and Biology. 2007; 52: 1675-1692.
Abstract
Wilkens JJ, Oelfke U: "Fast multifield optimization of the biological effect in ion therapy" Physics in Medicine and Biology. 2006; 51: 3127-3140.
Abstract
Wilkens JJ, Oelfke U: "A phenomenological model for the relative biological effectiveness in therapeutic proton beams" Physics in Medicine and Biology. 2004; 49: 2811-2825.
Abstract
print view