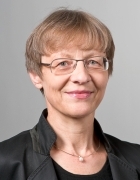 Academic Career and Research Areas
The main focus of Prof. Zachmann's (b. 1956) research is on the social, cultural and political dimensions of technology. The common denominator of the group's projects is the thesis that technology should be understood as the materialization of ideas. These investigations will give some insight into how humans have attempted to live fulfilling lives from historical times to the present day.
After studying economics and history at the University of Leipzig, Prof. Zachmann did her doctorate at TU Dresden. She completed her lecturer qualification in the history of technology, economics and society at TU Darmstadt. She has worked at Carnegie Mellon University in Pittsburgh, TU Berlin and the Max Planck Institute for the History of Science in Berlin as a visiting professor. Prof. Zachmann was a member of the Executive Council of the Society for the History of Technology and Vice Chair of the Society for the History of Technology (GTG). She is a member of the scientific editorial board of the journal Technikgeschichte.
Awards
Publikationspreis des Deutschen Museums für das beste Buch 2004 (2005)
International Scholar der Society for the History of Technology (1997-1998)
René Kuczynski-Preis des Jahrbuches für Wirtschaftsgeschichte für den besten Aufsatz der Nachwuchswissenschaftler (1985)
Key Publications
Oldenziel R, Zachmann K (Eds.): Cold War Kitchen: Americanization, Technology, and European Users. Cambridge: MIT Press, 2009.
Zachmann K: "Die Produktion von Dingen als Herstellung von Bedeutungen. Konsumkultur und Produktinnovationen im Übergang zum Industriezeitalter". In: Technik, Arbeit und Umwelt in der Geschichte. Editor: Meyer T, Popplow M. 2006; 133-149.
Zachmann K: Mobilisierung der Frauen. Technik, Geschlecht und Kalter Krieg in der DDR. Frankfurt, New York: Campus, 2004.
Poser S, Zachmann K (Eds.): Homo Faber Ludens. Geschichten zum Wechselverhältnis von Technik und Spiel. Frankfurt: Peter Lang, 2003.
Canel A, Oldenziel R, Zachmann K (Eds.): Crossing Boundaries, Building Bridges. The History of Women Engineers in a Cross-Cultural Comparison, 1870s-1990s. Amsterdam: Harwood, 2000.
print view