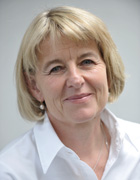 Prof. Dr. Anette-Gabriele Ziegler
Academic Career and Research Areas
The research of Professor Ziegler (b. 1958) focuses primarily on the understanding of the natural history of type 1 diabetes in humans, the identification of the mechanisms and predictive markers of the disease and the translation of findings into trials to prevent type 1 diabetes. Another major focus area is the elucidation of the impact of gestational diabetes and maternal hyperglycemia on the long term risk of obesity and type 2 diabetes in mothers and their offspring.
Professor Ziegler studied medicine at LMU Munich. After obtaining her license to practice medicine and receiving her doctorate from LMU, she worked as a research fellow at the Joslin Diabetes Center in Boston, USA (1987-89). She was awarded the prestigious Heisenberg Career Development Award of the German Research Foundation (DFG) (1993), acquired her German medical board certification in internal medicine (1991) and endocrinology (1994) and subsequently became adjunct professor at LMU Munich (1998). From 2007 to 2009 she was Director of the Department of Endocrinology at Klinikum Schwabing in Munich. In 2010 she was recruited to the Helmholtz Center Munich and TUM to set up the Institute of Diabetes Research. Since 2008 she has been spokesperson of Germany's Diabetes Competence Network.
Awards
Brownlee Lecture Award, Joslin Diabetes Center, Boston, USA (2014)
Mary Tyler Moore and S. Robert Levine Excellence in Clinical Research Award, Juvenile Diabetes Research Foundation (2013)
Ernst-Friedrich-Pfeiffer Award, German Diabetes Association (1998)
Dr. Bürger-Büsing Award, German Diabetes Union (1994)
Heisenberg Career Development Award of the German Research Foundation (DFG) (1993)
Ferreira RC, Guo H, Coulson RMR, Smyth DJ, Pekalski ML, Burren OS, Cutler AJ, Doecke JD, Flint S, McKinney EF, Lyons PA, Smith KGC, Achenbach P, Beyerlein A, Wicker LS, Todd JA, Bonifacio E, Wallace C, Ziegler AG: "A type I interferon transcriptional signature precedes autoimmunity in children genetically at-risk of type 1 diabetes". Diabetes. 2014; 63 (7): 2538-50.
Ziegler AG*, Rewers M, Simell O, Simell T, Lempainen J, Steck A, Winkler C, Ilonen J, Veijola R, Knip M, Bonifacio E, Eisenbarth GS: "Seroconversion to multiple islet autoantibodies and risk of progression to diabetes in children". JAMA. 2013; 309 (23):2473-2479.* shared first authorship
Ziegler AG, Nepom GT: "Prediction and pathogenesis in type 1 diabetes". Immunity. 2010; 32 (4): 468-478.
Hummel M, Bonifacio E, Schmid S, Walter M, Knopff A, Ziegler AG: "Early appearance of islet autoantibodies predicts childhood type 1 diabetes in offspring of diabetic parents". Ann Intern Med. 2004; 140: 882-886.
Ziegler AG, Schmid S, Huber D, Hummel M, Bonifacio E: "Early infant feeding and risk of developing type 1 diabetes-associated autoantibodies". JAMA. 2003; 290: 1721-1728. IF 28.899
Abstract
print view