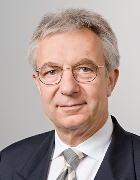 Prof. Dr. Josef Zimmermann
Academic Career and Research Areas
Prof. Zimmermanns Forschungsgebiet ist der Bereich der Organisationswissenschaften in der Bau- und Immobilienwirtschaft. Diese interdisziplinär orientierte Wissenschaft erstreckt sich dabei von der Grundlagenforschung bis zu anwendungsorientierten Forschungsfragen, die im intensiven Dialog mit der Wirtschaft bearbeitet werden. Die Schwerpunkte bilden u. a. die Optimierung von Projektorganisationsformen, die Qualifizierung und Quantifizierung einer nachhaltigen Immobilienentwicklung, maßnahmenorientierte Risikobewertung und -steuerung, der Einfluss von Innovationskooperationen in der Bau- und Immobilienwirtschaft sowie Potenziale und Gestaltungsparameter für Supply Chain Management in der Bauwirtschaft.
Prof. Zimmermann (*1953) studierte an der RWTH Aachen und promovierte 1985 an der RWTH Aachen über das Systemverhalten von vorgespannten Baukonstruktionen. Von 1985 bis 2004 war Prof. Zimmermann in der Bau- und Immobilienwirtschaft tätig; ab 1993 als Vorstand bzw. Geschäftsführer. Seit 01.09.2004 ist er Ordinarius des Lehrstuhles für Bauprozessmanagement und Immobilienentwicklung.
Awards
Ehrenring des VDI - Verband Deutscher Ingenieure (1991)
Borchers Medaille der RWTH Aachen (1985)
Key Publications
Zimmermann J, Eber W: "Modelling processes in construction management". 6th Intern. Conf. 2010;. Vilnius, Lithuania.
Abstract
Zimmermann J: "Prozessorientierter Nachweis der Kausalität zwischen Ursache und Wirkung bei Bauablaufstörungen". Forschungsarbeit im Auftrag des BBR. 2009; München.
Abstract
Zimmermann J, Hamann M: "Vergleich bauvertraglicher Regelungsmechanismen im Hinblick auf eine optimierte Abwicklung und zur Senkung von Konfliktpotential am Beispiel von VOB, NEC und FIDIC". BBR. 2008; München.
Abstract
Zimmermann J, Eber W, Schieg M, Nino E: "Risk Evaluation in Construction Management". Conference Business and Management 2008, Vilnius/Litauen. Selected Papers. 2008; I and II.
Abstract
Zimmermann J: "Biegetragverhalten und Bemessung von Trägern mit Vorspannung ohne Verbund". Deutscher Ausschuß für Stahlbeton. 1998; 391.
print view