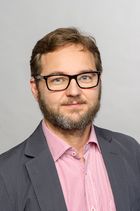 Dr. Alberto Marin-Sanguino
Wissenschaftliche Laufbahn und Forschungsgebiete
Dr. Marin-Sanguino and his group aim to understand the "design principles" underlying metabolic processes as a mean to develop strategies for rational genetic manipulation of industrially relevant microorganisms. The Ophelia project uses ectoine production by the bacterium Halomonas elongata as a proof of concept to establish a workflow that combines experiments and mathematical modeling in order to "hack" cellular metabolism. A detailed explanation of the project for non-scientists can be found in Systembiologie.de 08 pags 58-60.
Dr. Marin-Sanguino (b. 1973) holds a Master's degree in Molecular and Cell Biology from the university of La Laguna, Spain and worked as a consultant in food microbiology before obtaining his Ph. D. in 2007 with the dissertation: "Design and Optimization of Biosystems through Mathematical Modelling and Linear Programming: Applications to Metabolic Engineering". During the next three years, he conducted his post-doctoral studies in the Max Planck Institute for biochemistry in Martinsried working on systems biology of halophilic micro-organisms. In 2010 he joined the specialty division for Systems Biotechnology in the TUM and since 2012 he leads the Junior research group for Metabolic Engineering of Halophiles.
Wichtigste Auszeichungen
BMBF funded Junior Research Group (2012)
Schlüsselpublikationen
Christiana Sehr, Andreas Kremling and Alberto Marin-Sanguino."Design principles as a guide for constraint based and dynamic modeling: Towards an integrative workflow" acepted in Metabolites Oct-2015
Abstract
Schwibbert K.,Marin-Sanguino A., Bagyan I. , Heidrich G., Lentzen G., Seitz H., Rampp M., Schuster S.C., Klenk H.P., Pfeiffer F., Oesterhelt D., Kunte H.J. "A blueprint of ectoine metabolism from the genome of the industrial producer Halomonas elongata DSM 2581T" Environmental Microbiology 2011 13(8):1973-94
Abstract
Pozo C, Marin-Sanguino A, Alves R, Guillen-Gosalbez G, Jimenez L, Sorribas A. "Steady-state global optimization of metabolic non-linear dynamic models through recasting into power-law canonical models." BMC Syst Biol. 2011 25;5:137
Abstract
Marin-Sanguino A, Gupta SK, Voit EO, Vera J. "Biochemical pathway modeling tools for drug target detection in cancer and other complex diseases." Methods Enzymol. 2011 487:319-69.
Abstract
Marin-Sanguino A, Mendoza E.R., Voit E.O. "Flux duality in nonlinear GMA systems: Implications for metabolic engineering." J Biotechnol. 2010 149(3):166-72
Abstract
Druckansicht