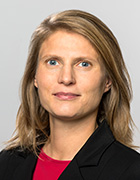 Prof. Dr. Anna-Julietta Baumert
Academic Career and Research Areas
Professor Baumert's research lies at the intersection of personality and social psychology, with a particular focus on psychological reactions to injustice. She investigates how the interaction of situation and person characteristics shapes social information processing, moral emotions, and moral courage.
Professor Baumert graduated from Trier University with master's degrees in psychology and philosophy. She completed her PhD at the University of Koblenz-Landau in 2009 with a thesis on "Justice Sensitivity and Information Processing". From 2012 to 2017 she worked as junior professor for Personality and Psychological Assessment at the University of Koblenz-Landau, before taking up a position as Research Group Leader at the Max Planck Institute for Research on Collective Goods in Bonn in 2017. In October 2017 she was appointed Professor of Personality and Social Psychology at the TUM School of Education as part of the MaxPlanck@TUM program.
Awards
William Stern Prize for Innovative Research in Personality Psychology, awarded by the German Psychological Society (DGPs) specialist group on Differential Psychology and Psychological Diagnostics
Awards for outstanding performance in teaching, Faculty of Psychology, University of Koblenz-Landau, 2012, 2013, 2015, 2016
Dissertation Award, University of Koblenz-Landau, 2010
Rheinland-Pfalz Teaching Award, 2008
Baumert A, Schmitt M, Perugini M, Johnson W, Blum G, Wrzus C: "Integrating personality processes, personality structure, and personality development". European Journal of Personality. 2017; 31: 503-528.
Abstract
Baumert A, Halmburger A, Rothmund T, Schemer C: "Everyday dynamics in generalized social and political trust". Journal of Research in Personality. 2016; 69: 44-54.
Abstract
Baumert A, Beierlein C, Schmitt M, Kemper CJ, Kovaleva A, Liebig S, Rammstedt B: "Measuring four perspectives of justice sensitivity with two items each". Journal of Personality Assessment. 2014; 96: 380-390.
Abstract
Baumert A, Schlösser T, Schmitt M: "Economic games - Performance-based assessment of altruism and fairness". European Journal of Psychological Assessment. 2014; 30: 178-192.
Abstract
Baumert A, Halmburger A, Schmitt M: "Interventions against norm violations: Dispositional determinants of self-reported and real moral courage". Personality and Social Psychology Bulletin. 2013; 39: 1053-1068.
Abstract