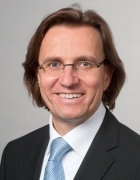 Prof. Dr. Frank-Martin Belz
Academic Career and Research Areas
Professor Belz (b. 1966) conducts both international and interdisciplinary research on sustainability innovation and sustainability marketing, including the invention, incubation, introduction and diffusion of sustainable products such as electric cars and energy plus homes. His work has taken him to Gothenburg, Sweden (1997), Boston, USA (2001) and Toronto, Canada (2009).
Dr. Belz studied business administration at the Universities of Giessen and Mannheim. He earned his PhD in 1995 and acquired his postdoctoral teaching qualification (habilitation) in 2001 from the University of St. Gallen where he served as staff president and assistant professor until his appointment at TUM in 2003.
Awards
Preis für das "Beste Lehrbuch des Jahres 2010", verliehen von der Vereinigung der Hochschullehrer für Betriebswirtschaft (VHB)
Belz FM, Karstens B: "Marketing Strategies in the Age of Sustainable Development: Evidence from the Food Industry". Business Strategy and the Environment. 2010; 19 (7): 401-416.
Abstract
Belz FM, Baumbach W: "Netnography as a Method of Lead User Identification". Creativity and Innovation Management. 2010; 19 (3): 304-313.
Abstract
Belz FM, Peattie K: Sustainability Marketing. A Global Perspective. Chichester: Wiley, 2009.
Abstract